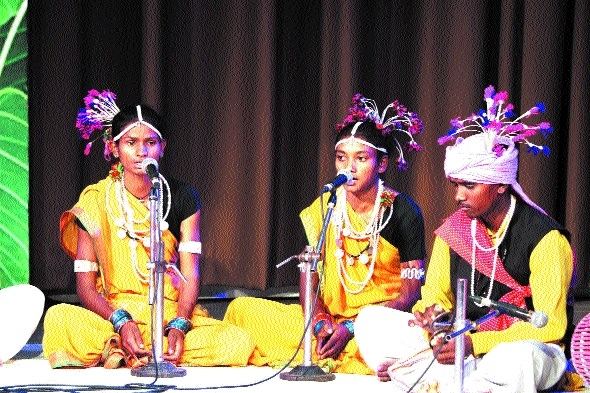 Roopsingh Kushram and team gave soulful presentation of Gondi patriotic songs under online Gamak Series.
Staff Reporter ;
Under online Gamak series, Tribal Folk Arts and Dialect Academy presented Gondi "Swaraj Geet" and" Matki Dance" on Tuesday. Both programmes created a unique ambience and left everyone enthralled. The first performance was "Gondi Swaraj Geet" presented by Roopsingh Kushram and team, Dindori. Roopsingh Kushram and team gave soulful presentation of Gondi patriotic songs. They gave voice to songs such as "Bharat Mata ke", "Bharat Ladni ko", "Lehki Tarna", "Dhire Gaayle", "Choye Mandiven", "Durga Rani", "Desh la kaam", "Hum Bharat ke gond", "Paladi Paal", "Mama na", "Charkha Chaline", "Tiranga Jhanda yaar" and finally the invigorating song "Bharat Mata ki Jai" etc. This was followed by Matki dances, put forth by Ritu Sharma and team (Ujjain).
The dance performance began with "Ganesh Vandana" and then witnessed the vivacious folk dance forms- Aada, Khadara, Rajwadi, Kaharwa, Matki, Phundi and Panihari. Matki, a traditional dance form of Malwa, is performed on various festivals and mirthful occasions. The literal meaning of matki is pot and the dance is performed in various styles like Aada, Khada, Rajwadi and Matki. This dance is a beautiful metaphor performed by women, which gives a glimpse of Malwa's beautiful culture. Dancers portray various body postures to the tune of big drums, turning the atmosphere joyous. Ustad Alauddin Khan Music and Arts Academy, Bhopal will present "Gayan" by Sai Aishwarya Mahashabde and team from Bhopal, followed by Kathak dance by Shikha Soni and team, Gwalior in August 18 Gamak program. The performances will be streamed live on the YouTube channel and Facebook page of the department.