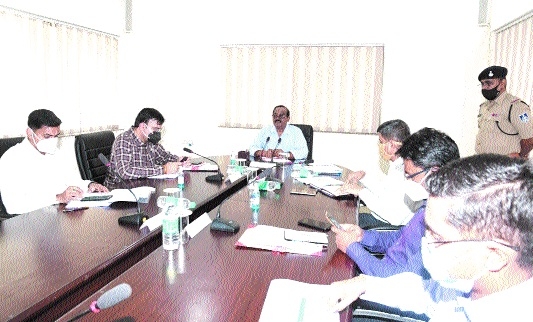 IG B S Chouhan chairing a crime review meeting.
Staff Reporter :
Inspector General of Police (Jabalpur Zone), Bhagwat Singh Chouhan chaired a meeting to review law and order arrangements in the districts, on Tuesday. Addressing the meeting, IG Chouhan directed the officers for ensuring maintenance of law and order arrangements during forthcoming Moharram, Rakhi and Krishna Janmasthmi festivals while special security arrangements should be made for world famous Gotmar Mela in Chhindwara district. He analytically reviewed the crime ratio in districts till August 15, 2021. Police officers were directed for conducting plantation drive in their respective districts and every police officer should plant a sapling on birthday, anniversaries and other important occasions at their office premises.
Pointing out the road accidents, IG Chouhaninstructed the officers for identification of black spots and ensuring installation of sign boards, blinkers and required traffic engineering in co-ordination with competent agencies to stop road accidents. IG, BS Chouhan directed the SPs for bringing pace in pending cases of loot, murder, vehicle lifting, attempting murder, dacoity, chain snatching, rape and other sensitive cases and ensuring apprehension of accused. Absconding warrantees should be arrested on priority basis and accused of POCSO Act should be strictly punished.