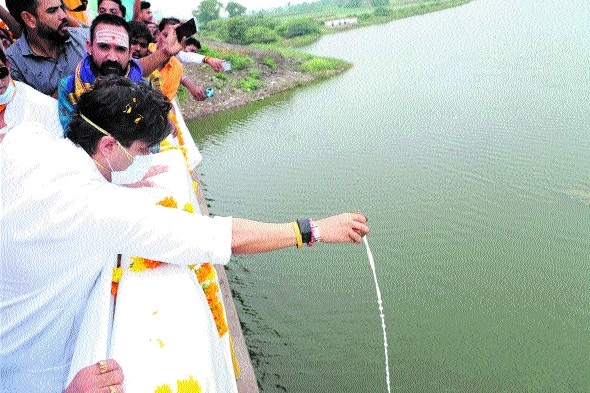 Union Minister Jyotiraditya Scindia offering milk to river Kshipra before starting Jan Ashirwad Yatra from Dewas on Tuesday.
Staff Reporter :
Union Minister for Aviation Jyotiraditya Scindia started his Jan Ashirwad Yatra from Dewas on Tuesday. He performed rituals on the banks of Kshipra river and paid obeisance at Devi Chamunda temple before embarking on the yatra. Addressing the public meeting during start of Ashirwad Yatra, he made a blistering attack on Congress. He said that Opposition did the work of throttling the democracy during the recent Parliament session. He accused Opposition led by Congress of trying to disrupt the Monsoon Session and creating chaos. "I want to tell Congress and Opposition that if they think that Prime Minister Narendra Modi will buckle down before injustice then it is people of country and BJP which will give befitting replying to them," he fumed.
He added that Opposition created unruly scenes in Parliament even on the day when PM Narendra Modi wanted to introduce newly-inducted Cabinet members. Terming the Modi Cabinet as a bouquet, he told that it is for first time that eleven women have been included in union cabinet. Along with this, seven members from SC, 27 members from Backward Class and 8 members from ST have been also included in the Union Cabinet. He stated that on one side there is BJP government which wants welfare and progress of women and people from OBC, SC & ST and on other there is Opposition which is changing its colour like chameleon. "BJP wants uplift of entire country while Congress wants uplift of only one family. This is the difference between BJP and Congress," he told.
He praised Prime Minister Narendra Modi for efficiently handling corona pandemic. he told that in mere eight months, jabs of corona vaccination has been administered to 55 crore people. On this occasion, Water Resource Department Minister Tulsiram Silawat, MLA Gayatri Raje Pawar etc were present. Notably, newly-inducted Union Ministers have embarked on Ashirwad Yatra to seek public blessings after Opposition marred their introduction programme in Parliament some days back.