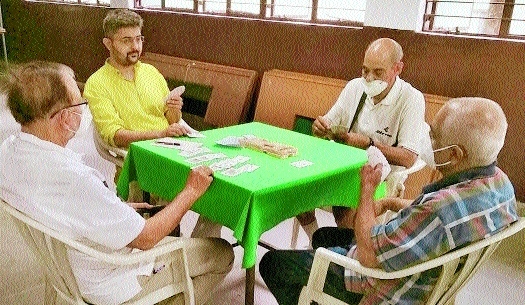 Winners Raja Rewatkar (R1) and Amit Rewatkar(L2) playing against S Watwe (L1) and AK Das.
Sports Reporter :
AFTER getting tremendous success in online bridge, it was time for all seasoned players to show their talent in special open pairs event organised by Vidarbha Bridge Association (VBA) on Independence Day. Father and son duo of Raja and Amit Rewatkar clinched top honours, competing from a field of 11 pairs, played across 10 rounds of 2 boards each in Match Point format.
The father-son duo earned 60.63 MP and emerged champions. Just behind them on runners-up spot were Kusum Bhave and AG Karandikar with 56.88 MP. SK Patni and PN Dixit, with a tally of 56.25 MP, finished second runners-up. Amit Rewatkar was tournament director for this brain game. A fair number of senior bridge enthusiasts, sportingly teamed up with their younger playmates of the brain game of bridge to compete for top honours in open pairs event. The event was held at the favourite haunt of their weekend rendezvous — VBA's Sports Complex.