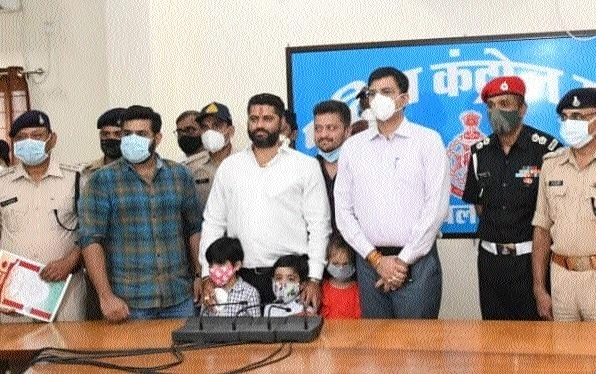 SP Siddharth Bahuguna honouring the brave youngsters and Army personnel.
Staff Reporter :
Superintendent of Police, Siddharth Bahuguna honoured two youngsters, Ankit Grover, Anuj Agrawal and Army personnel MRS Babu, D Mandal, Chandan Singh and Bikesh Kumar for arresting one of the two looters red-handed when they were escaping after looting mobile handset from a man. The incident took place when Ankit Grover and Anuj Agrawal were travelling in their car when they witnessed two motorcycle riders when they snatched mobile handset from a man and escaping from the spot.
Ankit and Anuj chased the miscreants and hit them with their car. They managed to catch one of the accused identified as Mohammed Sameer Ansari (19), a resident of Bada Madar Challa in Hanumantal. Meanwhile, army personnel MRM Babu, D Mandal, Chandan Singh and Bikesh Kumar also reached the spot. They handed over the accused to Ghamapur police. ON the identification of arrested boy, police nabbed another looter, Javed alias Kariya while further investigations are underway. SP, Bahuguna honoured to daring boys and army personnel for apprehending the looter on spot of the incident.