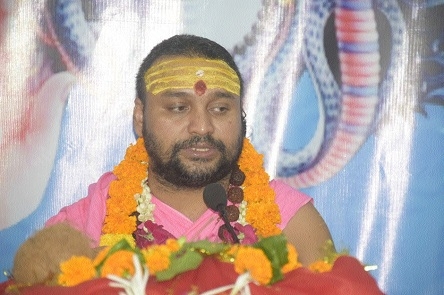 Bramhachari Chaitanyanand delivering religious discourse at at Baglamukhi Siddha Peeth Shankaracharya Math.
Staff Reporter :
"Following the direction of the Guru is the best way to get success and living a happy, prosperous and peaceful life. A disciplined pupil is never distracted from the way of truth and always achieved desired task. Messages of guru solely may solve any kind of problem in the life," said Bramhachari Chaitanyanand Maharaj. Bramhachari Chaitanyanand was delivering religious discourse during the ongoing 'Shiv Puran' on the occasion of Shravan Maas at Baglamukhi Siddha Peeth Shankaracharya Math, Civic Centre, on Wednesday. He recited the episode of Shiva-Parvati marriage and informed about the commitment of goddess Parvati for following the direction of Naradji. He termed the Shiva-Parvati as parents of the universe.
The discourse was followed by Rudrabhishek of Pardhiv Shivling and performed Hindola Poojan in presence of Anuradha Shirin, Kapil Shrivastava, Arpita Verma, Govind Sahu, Richa Mishra, Preeti Agrawal, Sneha Thakur and other devotees.