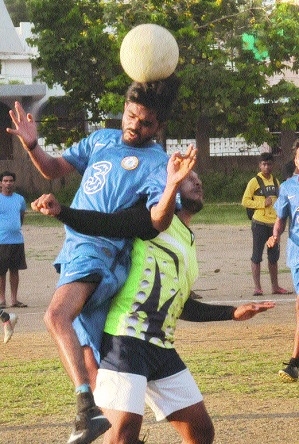 An Avinash Youth Football Club player heads the ball during the soccer final against Ajni Boys.
Sports Reporter :
ANANDS — Thakur and Popche, scored on either side of the break to help Avinash Youth Football Club (AYFC) win Jhund Zopadpatti Football Tournament that concluded at Bhagwan Nagar Ground Nagpur Sports Ground. In final of the event organised by Krida Vikas Sanstha, AYFC blanked Ajni Boys 2-0. Thakur gave the team a 1-0 lead in 22nd minute of play while Popche sealed the deal with another in the second half. Following teams took part in the tourney: Black Boys, Ajni Boys, Avinash Youth, Mayurik, Amayara, Thude Teen Club, Siraspeth Youth Club, Besa Indira. Krida Vikas Sanstha founders Vijay Barse, Girish Pandav, Manoj Gawande, Imran Pathan, Nilesh Khorgade, Ajay Handa, Mangesh Savarkar and Meenatai Bhagwatkar were among those who were present on the occasion. Organising Committee including Amit Shinde, Umesh Deshmukh, Rajesh Kharwade, Avinash Machale and Arpan Shinde worked hard for the success of the competition. TEAMS Avinash Youth FC: Emamyausal, Anand Thakur, Anand Popche, Amar, Vaiabhav, Pankaj, Pande, Roshan, Ballu, Babis, Rohan. Ajni Boys: Shailesh, Rahul, Danish, Veleuian, Javed, Tony, Swapnil, Amar, Atul, Sumit.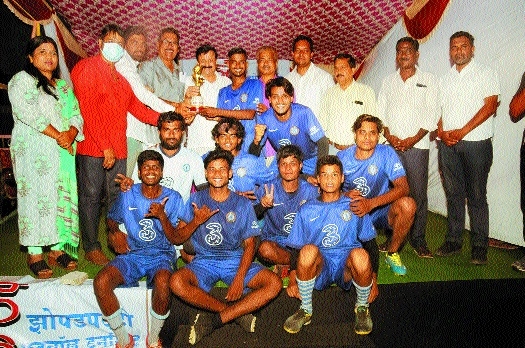 Members of title winning Avinash Youth Football Club team pose with guests.