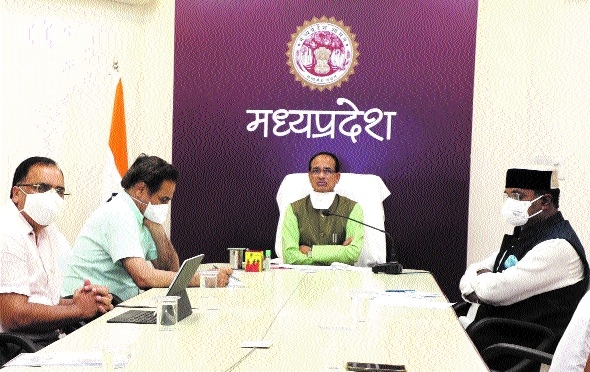 Chief Minister Shivraj Singh Chouhan reviewing vaccination status at his residence on Wednesday.
Staff Reporter :
Two days Vaccination Maha Abhiyan in the State from August 25
Chief Minister Shivraj Singh Chouhan has said that the second phase of the two-day Covid-19 vaccination mega campaign will be conducted on August 25 and August 26 in the State. Mega campaign will be conducted in all districts of the State. For this the campaign will be intensified. For the purpose of wider public awareness, message of benefits of vaccines, necessity and utility of the second dose, will be disseminated to the public through subject-experts via various media. The Chief Minister was reviewing vaccination work at his residence on Wednesday evening. He said that environment would be created by getting the cooperation of all the religious, social, political, Government, non-government, voluntary organisations etc., of the State.
He said that importance of vaccination should be conveyed to people. After the control of the second wave, there has been a decrease in the precautions being taken by the general public for protection from corona. A feeling of apathy towards vaccination is also being seen. There should be no gap in the level of awareness. It is very important to apply the second dose after the first dose. This message should be conveyed to the general public through the campaign. Also, the two-day vaccination campaign should be carried out smoothly. Medical Education Minister Vishwas Sarang said that vigorous efforts would be made in every village and ward of the state for the success of the mega campaign with the active co-operation of the Crisis Management members. Chief Secretary Iqbal Singh Bains said that using the experiences and innovations of the mega campaign organised earlier on June 21, all Collectors should complete all the pre- campaign preparations within time limit while ensuring proper use of all doses of Covid-19 vaccine.