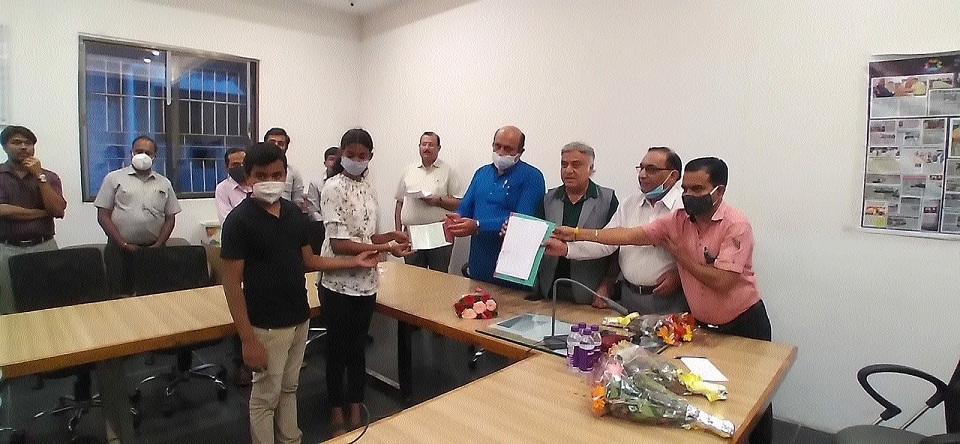 MLA Ashok Rohani and PF officers handing over cheques and PPOs to beneficiaries.
Staff Reporter :
Continuing the special campaign, PF Office Jabalpur handed over PF amount and PPOs to orphaned kids of COVID-19 deceased on their door step, on Wednesday. Resident of Ranjhi area, Devendra Naidu was surprised when he got pension fund of his parents on his doorstep. Receiving the gratuity fund and pension payment order, Devendra expressed his gratitude towards PF Officers. Devendra was benefited with the PPO following the campaign of Provident Fund Organisation to identify the families where any employee died due to COVID-19 to provide benefits of provident fund to their dependents under the direction of PF Commissioner, Ajay Mehra. During the campaign, PF Officer, Praveen Singh received information from Women and Child Welfare Department that Kanhaiyya Naidu, employee of Shubh Motors was dead due to COVID-19 and left behind his sons Devendra Naidu and Shrinivas Kanhaiyya Naidu.
Receiving the information, PF Commissioner, Rakesh Sehrawat took prompt action on the information and directed the concerned officers for claim settlement and providing its benefits to dependents of deceased. PF Office team contacted the bereaved sons of deceased and handed over the gratuity amount of Rs. 72,259, insurance benefit of Rs 1.25 lakh and PPO for monthly pension of Rs 1,141 to Devendra Naidu and Shrinivas Naidu at the hands of MLA, Ashok Rohani. PF Commissioner, Rakesh Sohrawat informed that under the direction of Regional PF Commissioner, Ajay Mehra, the department is scrutinising death cases for providing prompt benefits to their dependents.