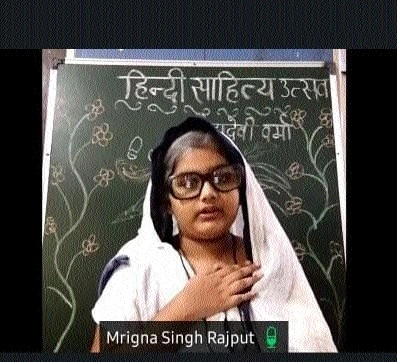 A student reciting the poem during the fest.
Staff Reporter :
Klanguage is the soul of Indian culture and the simplest source of expression of our nation. Hindi has an incredibly important role in the historic development of the world's cultures as it is the symbol of unity being regarded as the main connecting language among people. With the aim to hone the public speaking skills of the students, and to teach them to be articulate while expressing their thoughts and views in Hindi, a literary fest was held for the primary classes between August 16 and 18 at Delhi Public School (DPS), Mandla Road and DPS junior schools. Various class-wise competitions were conducted on the final day of the fest for the students of classes I to V. The digital platform was optimally utilised whereby students participated enthusiastically in multifarious feats like recitation, picture description, show and tell and kavi sammelan etc.
The students recited poems penned by their favourite poet while being dressed as the same. They used apt and colourful backdrops to highlight their act. The participants appeared well prepared and spoke eloquently on the topics given to them. The expressions touched the hearts and emotions of the audience. Each narration held something unique with which the students could relate during their presentation. The school Director, Shalvi Prajapati spoke at length about the importance of good oratory skills and appreciated the efforts of parents, participants as well as the meticulous arrangements by the Hindi teachers in making the event a grand success.