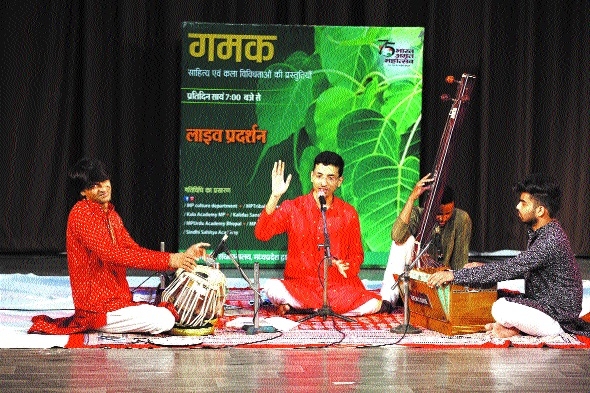 Sai Aishwarya Mahashabde and his team singing while
performing for online cultural series Gamak on Wednesday.
Staff Reporter :
Gamak cultural series, which is being aired online amidst Covid-19, witnessed the Gayan and Kathak dance performances on Wednesday. Presented by Ustad Alauddin Khan Music and Arts Academy, Gayan performances were voiced by Sai Aishwarya Mahashabde and team, Bhopal and Kathak dance by Shikha Soni and team, Gwalior. The performances went live on the YouTube channel and Facebook page of the Department. In the silvery-toned opening performance, Sai Aishwarya Mahashabde vocalised Raag Bihag, Bada Khayal in Vilambit Ektaal and Chhota Khayal in Dyut Teentaal. Sai Aishwarya Mahashabde was born to a family of proficient musicians. He received primary music training at Sathya Sai Mirpuri Sangeet Mahavidyalaya, Puttaparthi from Kumudini Mundakur and at ITC, Calcutta thereafter. He underwent further training from Padma Shree Pandit Ulhas Kashalkar in Sangeet Research Academy as well as ecclesiastical music education from Padma Vibhushan Girija Devi, a singer of Banaras Gharana.
He has been felicitated with Kal Ke Kalakaar Award for the year 2020-21 by Abhinav Kala Parishad, Bhopal. He has performed at various prestigious stages of the country. The programme furthered with 'Kathak' dance by Shikha Soni and team. Cordial dance performances were germinated with Shiva Rudrashtakam and then performers shook leg on Teentaal dances, Tirvat and the song 'Kanha Mat Daalo' in Thumri style towards the end. Shikha Soni is a post graduate in Kathak and a recipient of numerous awards in the field of dance. She underwent Kathak training from Purushottam Nayak, Dr Samiksha Sharma, Dr Monika Srivastava and Bhagwan Das Manik. Madhya Pradesh Urdu Academy will present 'Sufiana Ghazal' by Sufi Brothers Aftab Qadri, Tariq Phase from Indore and Rupesh Lal from Bhopal in August 20 Gamak programme. The performances will go live on the YouTube channel and Facebook page of the Department.