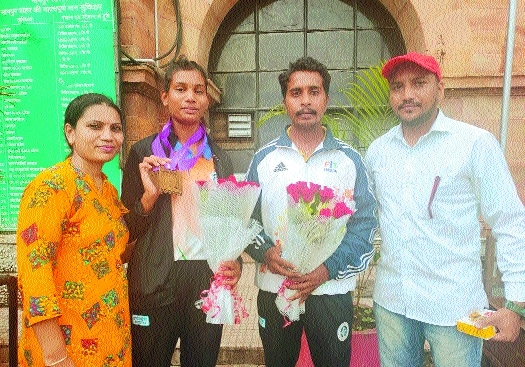 India's medal-winning archer Manjiri Alone (C) with former India player Vrushali Gorle (L) and Eklayva Academy coach Amar Jadhav at Nagpur on their way to Amravati.
By Paritosh Pramanik :
THE senior archers of country might have fallen short of winning a medal at the just-concluded Tokyo Olympics in Japan but the cadets of India made a mark at the Poland World Archery Championship where they produced medal winning performances. The archers achieved their best ever show in the Youth World Championships by grabbing three gold, one silver and a bronze medal in the compound section. In absence of Asian heavyweights Korea and China, Indian archers ruled the roost in the Under-18 (cadet) section, where the men's, women's and mixed pair teams emerged world champions. Vidarbha's Manjiri Alone, a resident of Nandgaon, Khandeshwar 40 kms from Amravati district, won two bronze medals to add to India's tally.
Manjiri won bronze in individual as well as team championship. Back in the country after her superb performance in her maiden international competition, Manjiri was happy with her showing. "I am really happy with my performance at Poland. This was my first international event and I proved my credential," said Manjiri while talking with 'The Hitavada' on Wednesday. The Standard IX Eklavya Gurukul School, Amravati student said she is now targeting 2024 Olympics in Paris. "The next aim is to perform well in Asian Games and the ultimate target is Paris Olympics. I will be starting training for the same immediately. There is no time to rest on the laurels. Paris Games are just three years away," said Manjiri, who got inspiration of taking up archery from her elder sister Samiksha, herself a national level archer. In the individual bronze medal match, Manjiri defeated her opponent from The Netherlands to claim the third spot. "There was no pressure on me. I did nothing new. What I practised at Sonipat (during India camp) I did same during the competition," she said.
"I want to take my cadet performance to the next level and want to cement my place in the senior India team," wished Manjiri, whose mother Ranjna is a home maker and father Manoj is clerk at Waman Vidyalaya in Amravati. The performance would have been much better had Manjiri, or for that mater the entire team, got better equipment. "We practise for eight hours daily. The only thing is we expect much better equipment for practise. We are getting the equipment from Gurukul but we also have to spend from our pocket. We have a lot of problems in getting best quality equipment. They are costly too which everybody can't afford. Our opponents participate with very high quality equipment. I think if we also get those equipment we can also shoot gold," replied Manjiri. There was financial windfall on Tokyo medal winners but the junior sportspersons hardly get anything for their heroics. Manjiri feels that financial help should also be given to other winners in other competitions as well. "Yes, I think, if we get financial help for at least purchasing best quality equipment, we could perform much better. Archery is a costly sport and it needs a lot of money to play this sport.
Only my parents know how they manage," said Manjiri who doesn't have any sport scholarship from Khelo India or TOPS. Manjiri knows that her path upwards would be tougher but she is determined to give her best. "I know it will be very tough from here on but I will give my best to get selected in the Indian team," Manjiri confidently said. The equipment with which she is now playing is not of the best quality and Manjiri also knows that it would be very difficult for her to make the next grade. For that she hopes that corporate and others come forward to help her sport survive. "I expect Government to help us financially so that we get better equipment. Even corporate houses can help us," prayed Manjiri.
Coach begs for financial help
By Paritosh Pramanik :
ARCHERS from Eklavya Academy, Amravati can bring several medals for India at international competitions including Olympics but for that Government must come forward and provide them with better equipment, said Eklavya Academy coach Amar Jadhav who was in Nagpur to receive India cadet medal winning archer Manjiri Alone. Jadhav rued lack of support from Federation as well as from Government in running the sport. "We hardly get any support from the federation. Our players can easily match Deepika Kumar and Komalika Bari. Our archers hit same scores which these India internationals manage at the top level," said Jadhav.
"At our academy we have at least 40-50 archers out of which at least 5-6 archers have the calibre to play at highest level. All are coached by Shiv Chhatrapati award winner Sadanand Jadhav. Lack of financial help forced Jadhav to shell out money from his own pocket to purchase arrows for Manjiri. "She had to leave for the competition but her arrows were dented and were of no use. I gave Rs 25,000 for new arrows," claimed Jadhav. "Manjiri's father had to shell out Rs 10,000 for her visa," he added. A player practises for eight hours daily. At least three dozens of arrows are required in a year for practise and they are costly too (Rs 35,000 per dozen). The arrows are of no use after three months as they become shapeless," said Jadhav. "If government or federation come forward and help us with equipment, our archers can bring laurels and the sport will grow exponentially," concluded Jadhav.