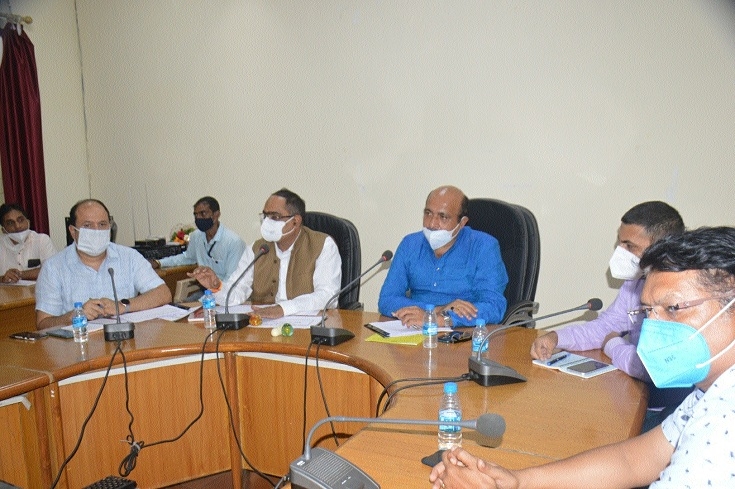 MLA Ashok Rohani talking to the senior officials during the review meeting.
Staff Reporter :
MLA Ashok Rohani along with Commissioner Disabled Welfare, Sandeep Rajak reviewed the progress of schemes and programmes being run for differently able persons in the conference hall at Collectorate. During the meeting, Rohani said implementation of all the schemes regarding welfare of differently able should be done on priority. He said serving a differently able is equal to serving the God. He said needed initiatives should be taken to apprise the disabled about the welfare schemes and programmes so that they could take due benefits of the same on time. The BJP MLA further said that after Raksha Bandhan, a Divyang Sahayta Shivir would be organised in Gorabazar area. Public representatives must be informed of the same as they are directly connected with public.
Commissioner Disabled Welfare, Rajak asked senior officials to identify all disabled, issue disability certificate and benefit them under various schemes. He also asked to ensure that disabled persons should get artificial equipment easily. Also, problems related battery operated vehicles should be resolved early.
During the meeting Rajak also directed concerned senior officials to ensure the differently able persons should get services like pension, marriage incentive, scholarship, amount under civil service incentive scheme on time as per eligibility. He said that the people should not face any problems while getting disability certificate so organise camp and provide issue maximum certificates. He also asked officials to ensure due benefits of welfare schemes to bed ridden disabled people. Also ensure arrangements for their education. Rajak also asked to ensure free repair of battery operated vehicles for warranty period of 5 years. He also gave necessary directions for vaccination and other benefits to disabled persons.