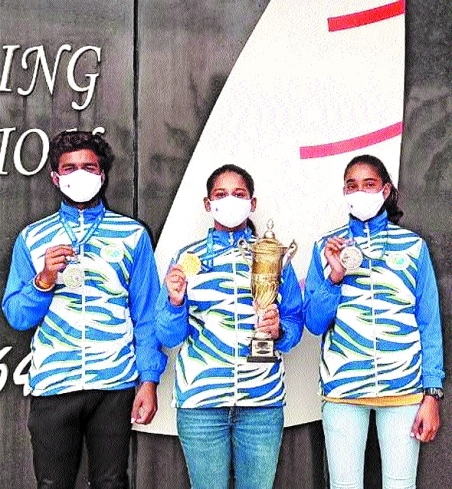 Players of MP Water Sports Academy with their medals won at Hyderabad on Thursday.
Staff Reporter :
Gamak series continued to air online in wake of Covid-19 and on Thursday the program observed the Sufiyana Ghazal performances by Madhya Pradesh Urdu Academy. Sufi Brothers Aftab Qadri and Tariq Phase, Indore and Rupesh Lal, Bhopal delivered the melodious performance, which went live on the YouTube channel and Facebook page of the department. Programme opened to a speech verbalized by the Director of Academy, Dr Nusrat Mehdi. She highlighted Culture Department's efforts in organizing sundry cultural programs.
"Our poets and writers have attained a performing platform through their talent. Similarly, new artists are also being given a platform to showcase their talent", she said. Thereafter, she introduced the cultural artists for the evening, Aftab Qadri, Tariq Faiz and Rupesh Lal. The mellifluent performance began with the vocalisations of the Sufi Brothers, Aftab Qadri and Tariq Faiz who sang Bismil Naqshbandi's "Yeh Desh Hai ", Amir Khusro's "Ai Ri Sakhi" and Kamil Shatari's Ghazal "Aap ko pata nahi". This was succeeded by Rupesh Lal's symphonious renditions of Ghalib's famous Ghazal "Hazaron Khwahishein aisi", followed by Sahir Ludhiyanvi's "Main yun hi", Bahadur Shah Zafar's "Yaar ki khabar" and the musical piece "Ishq fanaa ka naam", originally voiced by Jigar Muradabaadi. Aftab Qadri and Tariq Faiz have presented Ghazal performances in many countries.
Rupesh Lal is a Doordarshan and All India Radio artist who has lent his voice in many programmes. Post the soulful performances, Dr Mehdi expressed gratitude to the audience. Sahitya Academy will stage 'Shakti Ka Swar' program by Shweta Singh- Vadodara, Manu Vaishali- Shivpuri, Muskan Raj- Indore, Kranti Pandey- Rewa, Review Saral- Mandsaur, Manika Dubey- Sihora, Shivangi Sharma- Ujjain and Kanchan Namdev- Bhopal on August 20, which will go live on the YouTube channel and Facebook page of the department.