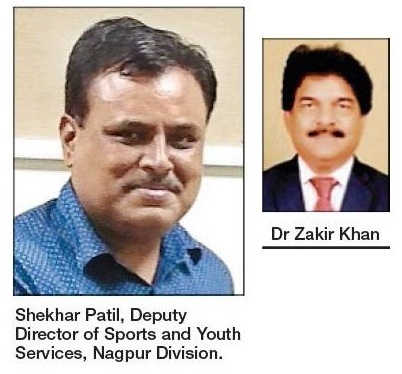 Principal Correspondent :
THE Department of Physical Education and Sports and National Service Scheme of Anjuman College of Engineering and Technology recently organised a national webinar on Fit India Movement. Sports Department Head Dr Zakir S Khan made the introductory remark. Deputy Director of Sports and Youth Services, Nagpur Division Shekhar Patil was the chief guest of the webinar. Patil asked participants to play together, stay together and suggested consumption of drumsticks to stay fit.
He also asked parents to reduce screen time of their wards and start fitness regimen. The Fit India Movement was launched by Prime Minister Narendra Modi in 2019 on National Sports Day (August 29) to inspire people to make physical fitness a way of life. Dr Khan gave 'fitness ka dose' to all participants. He asked students to do morning walk and jogging, running, skipping, squats, push-ups, abdominal exercises, single bar pull-ups, stretching, yogasanas. He also asked participants to avoid junk food and go for healthy diet or home made food only. Around 200 participants from all over India participated in webinar. Dr Sayed Mohammed Ali, Principal, Anjuman College of Engineering and Technology, Prof Mohd Azaz, Assistant Professor, Civil Engineering Dept and others attended the webinar. Dr Khan proposed a vote of thanks.