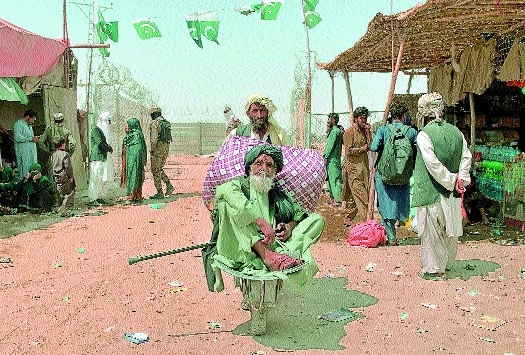 AN AFGHAN official familiar with talks with the Taliban says, the group does not plan to make any decisions or announcements about the upcoming Government until after the August 31 US withdrawal date passes. The official, who is not authorised to give information to the media and thus spoke anonymously, says Taliban lead negotiator Anas Haqqani has told his ex-Government interlocuters that the insurgent movement has a deal with the US "to do nothing" until after the final withdrawal date passes.
He did not elaborate on whether the reference to doing nothing was only in the political field. Haqqani's statement raises concerns about what the religious movement might be planning after August 31, and whether they will keep their promise to include non-Taliban officials in the next Government. Until now the Taliban have said nothing of their plans to replace the Afghan National Defense and Security Forces, or what a replacement would look like.
Meanwhile, the Taliban have appealed to the international community to recognise it amid growing resentment against it at home and abroad, even as the Afghan militant group sought to placate China, saying Beijing can play a "big role" under its rule in the strife-torn country. Taliban spokesman Suhail Shaheen said that the international community should "respect the will of the Afghan people" and officially recognise his group which has taken over power in Kabul.
He also urged international monetary organisations to release funds to the new Government. The Taliban, which shared close ties with Pakistan, have been warming up to Beijing ahead of its recent offensive resulting in seizing power in Kabul. "China is a big country with a huge economy and capacity. They can play a big role in rebuilding, reconstruction of Afghanistan," Shaheen said. "We have had a relationship with China and Russia during the past years. We have told them they should not have any concern from Afghanistan," he said.
Blinken, Jaishankar discuss situation, agree to continue coordination
US Secretary of State Antony Blinken and External Affairs Minister S Jaishankar discussed the chaotic situation in Afghanistan for a second time this week and agreed to continue their close coordination over the matter.
Blinken spoke with Jaishankar over the phone on Thursday to discuss the situation in Afghanistan, State Department spokesperson Ned Price said. "Secretary Blinken and Minister Jaishankar discussed Afghanistan and agreed to continued coordination," Price said in a readout of the call. "Productive call with @DrSJaishankar today (Thursday) about Afghanistan. We agreed to continue our close coordination," Blinken tweeted after the call. Blinken and Jaishankar last spoke on Monday and discussed the situation in the conflict-torn country.