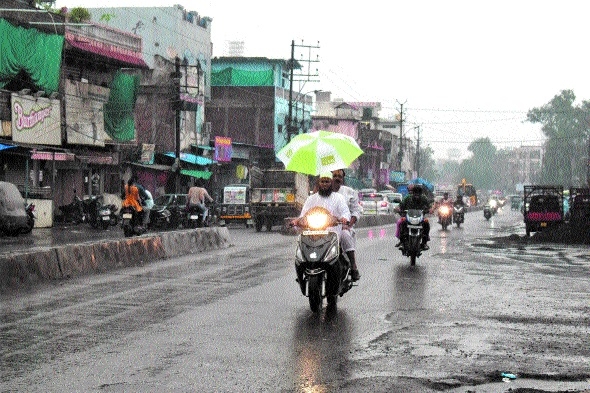 A spell of light showers brought delight on the faces of people in Bhopal on Friday. Spell of light showers infused mild coolness into the air. People enjoyed the changed weather conditions to the hilt. Sky remained cloudy throughout the days. Rains also occurred in many places of state as well. Weather Department has issued warning of heavy to very heavy rains in sundry parts of Rajgarh, Vidisha, Raisen, Bhind, Khandwa, Badwani, Ujjain, Dewas, Khargone, Guna districts respectively.
Heavy rains are likely in some places of Singrauli, Sidhi, Anuppur, Dindori, Balaghat, Sagar, Chhattarpur districts. Thunder activities are likely in isolated places of Sagar, Rewa, Bhopal, Gwalior, Chambal divisions respectively. In the last twenty-four hours, rains lashed Piparia (16 cm), Ghodadongri (14 cm), Pathari, Nagda (13 cm each), Bainsdehi (11 cm), Kurwai (9 cm), Petlawad, Kesli (8 cm each) respectively.
The local forecast for Bhopal says that sky will be cloudy and there is possibility of rainfall and thunder activities in city. During day time on Friday, Satna received rainfall of 45 mm, Malajkhand (44 mm), Sagar (39 mm), Bhopal city (7.2 mm), Indore (12 mm), Naugaon (11 mm), Rewa (7 mm), Sidhi (5 mm), Khargone (2 mm), Ratlam (2 mm) respectively. As weather conditions have changed with the arrival of thick cloud cover and rainfall activities, people are enjoying the changed weather conditions. during holidays and free time, people are preferring to go to picnic and scenic spot with family and friends. In Bhopal, boat club has become the hottest place to visit for people. They go to upper lake particularly during evening hours and enjoy the eye capturing beauty of upper lake whose water level has increased subsequently due to good amount of rainfall in its catchment areas.