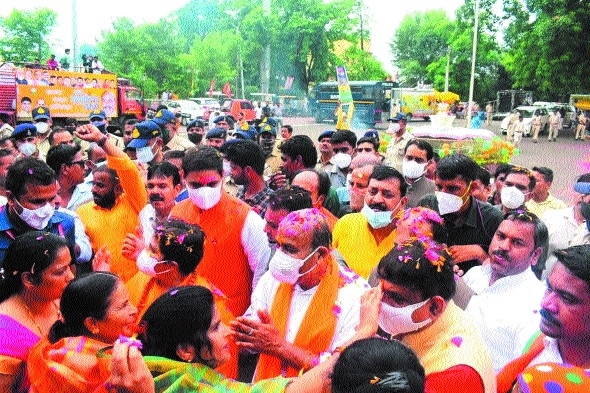 Jan Ashirwad Yatra of Union Minister Virendra Khatik received overwhelming response in Bhopal on Friday. BJP leaders welcomed him with garlands. Virendra Khatik also participated in various local programmes.
In the programme organised by scheduled caste section in Prabhu Nagar Committee Hall, Virendra Khatik minced no words to criticise the Congress and other Opposition parties who did not allow introduction of newly-inducted Union Cabinet ministers in Parliament. Due to this reason, newly-inducted Union ministers are taking out Jan Ashirwad Yatra to take public blessings in their respective states. He said that Modi government has given appropriate representation to all sections of society in the recent Union Cabinet reshuffle. For the first time, eleven women union ministers, 27 Union Ministers from OBC, twelve Union Ministers SC category have been included.
On this occasion, Medical Education Minister Vishwas Sarang, BJP Vice President Alok Sharma, BJP General Secretary Bhagwan Das Sabnani, Ranveer Singh Rawat, MP Pragya Singh Thakur, MLA Rameshar Sharma etc were present. BJP district unit felicitated Virendra Khatik at VIP Guest House. Later, Veerendra Khatik went to Lal Ghati square and offered flower petals on the statue of Pandit Deendayal. He also went to the Kutia of Sant Hirdaram. He later went to Nayapura-based vaccination center and appealed that more and more people should get vaccinated. He also went to Gufa Mandir and paid obeisance. He was welcomed by BJP workers at Shahid Gate, Royal Market, in front of GPO. At Char Batti Chauraha, Muslim Community members welcomed him. He also paid obeisance at Curfew Wali Mata. After this, he went to the home of Lok Tantra Senani Pandit Om Mehta, met his family members and have food with them.