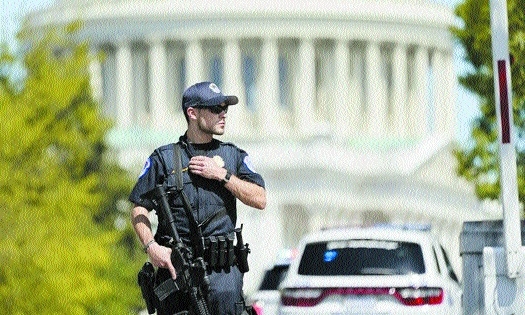 A NORTH Carolina man who claimed to have a bomb in a pickup truck near the US Capitol surrendered to law enforcement after an hours-long standoff on Thursday that prompted a massive police response and the evacuations of Government buildings in the area.
Police did not immediately know if there were explosives in the vehicle, but authorities were searching the truck in an effort to understand what led the suspect, identified as 49-year-old Floyd Ray Roseberry, to drive onto the sidewalk outside the Library of Congress, make bomb threats to officers and profess a litany of anti-Government grievances as part of a bizarre episode that he live-streamed for a Facebook audience. The standoff was resolved peacefully after roughly five hours of negotiations, ending when Roseberry crawled out of the truck and was taken into police custody.
But even in a city with a long history of dramatic law enforcement encounters outside federal landmarks, this episode was notable for its timing — Washington remains on edge eight months after the insurrection at the US Capitol — and for the way the suspect harnessed social media to draw attention in real time to his actions. Authorities who spent hours negotiating with Roseberry — first using a dry erase board and then bringing him a telephone that he refused to use — were digging into his background Thursday afternoon.