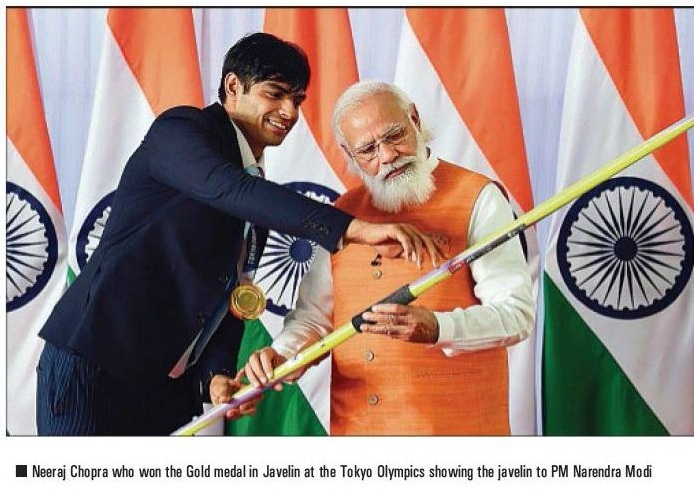 By VIJAY PHANSHIKAR :
"Vijay aapke sar par nahin chad baithna chahiye, aur parajay aapke hriday mein bas nahin jana chahiye" (Victory should never lord over your head, and defeat should never get lodged in your heart)". T his wise counsel of Prime Minister Mr. Narendra Modi to Indian sportspersons who just returned from Tokyo Olympics, was not just for that band of 129 national youth icons, but also for every Indian in every field. Stay always tuned in and tuned up for your cause, he meant to say. This statement was directed straight to Gold Medal winning javelin-thrower Neeraj Chopra. The Prime Minister added, in effect, 'I have marked this quality in you -- unburdened by victory and unperturbed by defeat'. The Prime Minister's grip of detail was remarkable.To Mirabai Chanu, he said, he was happy to see her humility to remember the truck drivers who ferried her 30 km every day from home to training and back and invite them for a celebration over meal.
He moved around meeting everybody, asking personalised questions, asking those overjoyed and overawed young men and women to convey his Pranaam to parents. "Mann mein sapne hone chahiye, ashayen honi chahiye, par nirashaaon ko apne mann mein kabhi sthan nahin milna chahiye" (Our head should harbour dreams, have high aspirations, but there should be no place for despair in our heart), the Prime Minister added as he interacted with Indian Olympians and their coaches and officials over breakfast on a rather balmy New Delhi morning early last week. Turning to the iconic woman wrestler Vinesh Phogat -- who could not win a medal and subsequently went into sort of depression -- Mr. Narendra Modi said in assuring words and soothing voice dripping with empathy, in effect, "What is this kind of behaviour going into isolation on return from Tokyo? Have heart. Start preparing once again". Vinesh blushed as tears rushed from her eyes that started lifting as she heard the Prime Minister's encouraging invitation to start working again.
"Yes Sir" was all she could say, promising him that she would bounce back. In his interaction, Mr. Modi also suggested to many Olympians to write down in detail their thoughts on what happened inTokyo and what the country needs by way of improvement in sports infrastructure or training facilities and methods. "Send that to me. I will see what I can do", he prodded them. With banana-grins turning their faces into happy contortion, all those celebrated sports icons agreed, nodding and muttering "Yes Sir". "I am sorry, Sir, that I could not repeat the medal this time. But I will not give up," said the legendary M.C. Mary Kom as she stood face to face with the Prime Minister. He smiled, and said, "Of course, we miss you in Parliament. But you have changed the sports picture especially for women in the last three decades.
The nation will remain forever grateful to you. All the best." And then to all those sportspersons in particular and the nation as a whole, Mr. Narendra Modi said, in effect, "New India will never pressure the athletes to win medals. Rather, everyone should just focus on giving one's 100 per cent." In his own, powerful way, Mr. Narendra Modi was giving the message of how the sportspersons should look at their avocation and the nation at sports in general. In simple words, Mr. Narendra Modi was only underlining what he thinks the nation's sports culture should be like. You may play for medals, all right. But you must start playing for playing. That will give you sheer pleasure, and prepare a base for your ambitions in sports, Mr. Modi proposed in direct or indirect statements during his onehour interaction. As he offered the promised ice-cream to badminton superstar P.V. Sindhu, Mr. Modi said, however, that he would rather avoid eating as he takes only one meal during the Chaturmas (four months of observance of certain abstinencecode). Saying that, too, he gave to the sportspersons a message of empathy that he knows what it took to follow strict discipline to achieve excellence in the sporting arena. F OR long, India has been looking for such an atmosphere filled with dreams, inspiration, aspiration and perspiration in sports.
The Indian society did produce many a great sporting icon (whose list could be very long), but did not actually allow the evolution of a culture in which pursuit of excellence in sports was a matter of unmitigated pride, pleasure and privilege. Only a handful of Indian families gave sports a due respect. And most unfortunately, the larger scheme of education -- from the kindergarten to postdoctoral levels -- never had much emphasis on sports as a potent tool of learning, not just as a game but also great and precious lessons of life. In Indian educational concept, planners and thinkers possibly did never hear the iconic words of the Duke of Wellington after defeating Napoleon The Great at Waterloo: "The battle of Waterloo was won on the play-fields of Eton (the school the Duke studied in)". Of course, things are changing now -- more realistically, promising to change with Mr. Narendra Modi leading the national-social campaign in this regard. Let us hope that this mood would endure itself over time, through the vagaries of a terrible social apathy and political will in a historic and famed absentia. Let us hope that the political push and a new approach Mr. Modi has given to sports will outlast our historical disinterest in this wonderful field. T HIS prayer has its own value in the overall Indian attitude and conduct to sports. Every city, every town, every village tells more or less the same story of apathy towards sports. Almost every place has a number of wasted playgrounds. Every place has sportspersons in good numbers all the time waiting for right facilities to come up. True, Mary Koms and Mirabai Chanus do come up through impossible-looking difficulties. But as one point in their journey of excellence in sports, they also need appropriate social, economic and infrastructural support. On this count, the nation has failed itself in a terrible manner over decades. However, with Mr. Narendra Modi now leading the campaign of resurgence and renaissance in sports, a fine hope has emerged on the horizon of better days in sports, in the process rekindling dreams of countless sporting aspirants as players, parents, coaches and organisers -- of seeing the Indian tricolour going high in the international firmament and the Jana Gana Manna being played over public address system and Gold Medals shining on the players' chests in increasing numbers.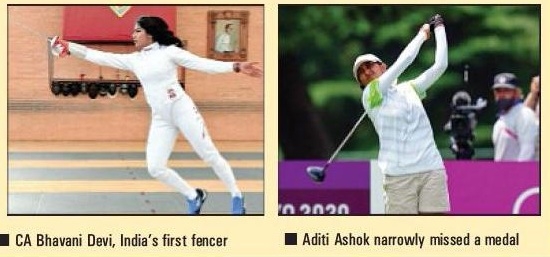 Narrow medal misses Heroically they fought the hardest, true to their grain and germ ... but fell short of medals by whiskers. If their efforts had succeeded in mopping up just a grain of additional push, Indian Olympic contingent would have returned with at least a dozen more medals. Back home, however, they offered profound apologies for their failure. "Sorry Sir", "My apologies Sir" was what they said to Prime Minister Mr. Narendra Modi, their faces dripping with regret that their effort fell just a grain short. None of them tried to pass the buck to the luck or fate factor. They stood responsible for their action, proving what kind of bravehearts they are. 'Blame us', they seemed to say. "But this is how sports are. No apologies", Mr. Modi told them in the most assuring and considerate tone. "Better luck next time", he said. He was only verbalising what the whole nation felt about the narrow misses. And each of them remembered how the Prime Minister called them at the precise moment when they had just exited the arena after the loss in the medal struggle.
He was there when some of them won medals. And he was there when some of them missed narrowly. No matter all this assuaging, the nation will find it most difficult to get over the terrible disappointment of missing medals that it had almost taken for granted at the start of the Tokyo Olympics. And the nation felt a stab in the heart when each of those players apologised. "No, no. Never do that. You are our darlings. We know, you tried". A poet once wrote down the words for his own epitaph -- 'Here lies a man who tried'. "Never mind darlings. We don't misunderstand you", the nation said. Despite this large-heartedness, the nation will always remember how heroically Indian women missed Hockey Bronze by just a whisker. The nation will also not miss the narrow misses in the Bronze medal fights by boxer Satish Kumar in 91-plus-kilo category; by wrestler Deepak Punia in 86-kilo category; by shooter Saurabh Chaudhary in 10-meter air pistol event; by Kamalpreet who stood sixth in the finals of women's discus throw event; archer Deepika Kumari in the Quarter Finals; her husband Atanu Das, a terrific medal-prospect in men's archery losing in pre-Quarter Finals; shooter Manu Bhaker who could have brought a medal had her gun not failed her; table tennis star Manika Batra who put up tremendous efforts only to go down fighting; boxer Puja Rani in 75-kilo Bronze medal fight; wrestler Vinesh Phogat in Quarter Finals. The whole nation woke up early morning to watch how 23-year-old golfer Aditi Ashok came so close to medal prospects when her last shot just moved along the lip of the hole and trickled away. Just that one shot in, and Aditi Ashok could be a medal winner -- against an array of senior and seasoned world-class women.
When Aditi went to Tokyo, she was already a veteran of one Olympics (having been at Rio Games when she was just 18 years old). And then there was that 20-year-old golfer Diksha Dagar, who got a lastminute call to Tokyo, with an astounding story. Her hearing-impairment did not stop her from competing at the highest level. True, she has some distance to cover, but Diksha proved her promise very well. From Chennai, one girl created Olympic history -- by being the first-ever Indian sabre fencer (man or woman) to compete there. CA Bhavani Devi began with a smart win, but later fell short in experience. Such multiple mini-stories now fill the details in the larger Indian story of sporting excellence, indicating a positive transformation. For long decades, Indian contingent made a habitual round trip to Olympics and back without much fanfare. Today, the tone and tenor of the story has changed. The previous Olympic edition produced six medals for India. This one brought in seven. This statistical figure is going to swell every passing year. India has moved ahead from its old commitment of 'playing for playing's sake' -- a sign of a new, emerging culture. - Vijay Phanshikar