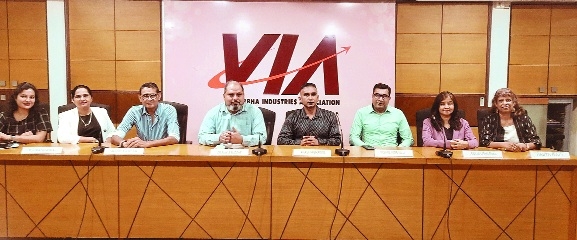 Business Bureau :
The Entrepreneurship Forum of Vidarbha Industries Association Nagpur recently conducted a panel discussion on "How to Grow your Business post Covid" at VIA Hall, civil Lines Nagpur. The eminent panelists, all leaders of the industry, were very upbeat about business prospects in the coming times. Panelist Anuja Sharma, Director Marketing of Shamlax Metachem Pvt Ltd, spoke on the importance of health and wellness of employees. She also stressed on adding value and quality to the products. She also expressed her views on short term planning strategies. Dr Suhas Buddhe, Managing Director of Bio Care India Pvt Ltd, spoke about the challenges at village level and how encouraging an online engagement is. He stated that farming is witnessing a 20-25 per cent shift from cotton to soya bean and hence the agro businesses must also be dynamic about their practices. Vishal Agrawal, Managing Director of RC Plasto Tanks & Pipes Pvt Ltd, was very optimistic.
He advised the viewers to keep themselves abreast of Government schemes. He mentioned that since the credit is now cheaper than it used to be, it is a good time to set the business on sail. He advised on shorter credit horizons for businesses. Atul Gupta, Director of Excel Controlinkage Pvt Ltd, with his special flavour of Entrepreneurship, spoke at length on the need to ask questions, look at things and processes and anticipate or look ahead for disruptions. 'Think inwards' was his mantra. He underlined the need to create one as a differentiator with out of the box ideas, and coming out of the comfort zone. Earlier, Akash Agrawal, Chairman of VIA Entrepreneurship Forum, in his welcome address stated that as the restrictions are being relaxed and markets are open, many entrepreneurs, MSMEs are expecting to grow their businesses. With this in view, the forum has invited expert speakers shared their outlook.
Agrawal also moderated the session. The guest speakers were accorded a floral welcome by Anita Rao, Joint Secretary VIA, to Anuja Sharma; Akash Agrawal to Dr Suhas Buddhe; Vandana Loya to Atul Gupta and Meghana Jaiswal to Vishal Agrawal. Meghana Kalgaonkar, Programme Coordinator introduced the speakers. Prominently present were Ashit Sinha, former VP of VIA, Girish Deodhar, Chairman of MSME Forum, Gaurav Sarda, Hon. Secretary – VIA, Nitin Gujarathi from Lemon Idea; Arun Lanjewar, Director Vishal Paints, Vaibhav Agrawal from R C Plasto. Meghana Jaiswal proposed a vote of thanks. A high value discussion with such leaders of eminence was keenly followed on Zoom and Facebook live.