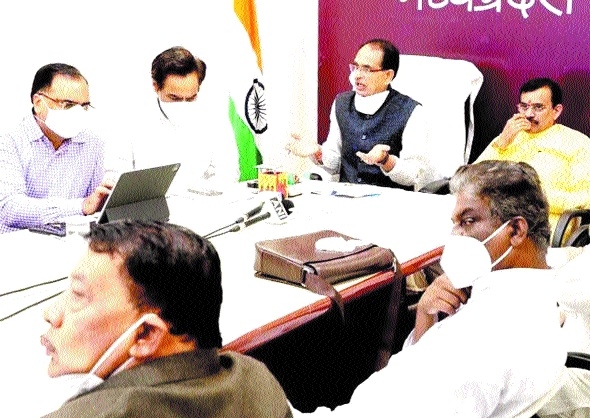 Chief Minister Shivraj Singh Chouhan doing video conference with Collectors, members of Crisis Management Groups on Saturday. BJP State President VD Sharma, Health Minister Dr Prahuram Chaudhary etc are also present.
Staff Reporter :
To ensure mega success to mega vaccination drive on August 25 and 26, Chief Minister Shivraj Singh Chouhan did video conference with Collectors, members of Crisis Management Groups on Saturday. On this occasion, ministers were also present. While interacting with public representatives, administrative officers, he said that everyone together should make this great campaign a success. According to the strategy prepared for vaccination in the state, it has been decided to give first and second dose to 20 lakh people on August 25 and second dose to 10 lakh people on August 26. In the month of August, out of about 74.7 lakh doses received from the Government of India, 73.9 lakh have been consumed. Necessary dosage arrangements have been made for the mega campaign in the state. Out of 5,48,9,000 population of the State eligible for vaccination, 3.32 crore have received the first dose and 64.9 lakh population has received the second dose. Madhya Pradesh is the most vaccinated state in the country after Gujarat.
Stressing to motivate people for vaccination, he said that not only Asha and Usha, Anganwadi workers, officers of health department, but also other departments should play an active role in the vaccination campaign in the state. He said that the minister-in-charge should keep an eye on the preparations for this mega campaign. Create a festive atmosphere. Citizens are becoming negligent after administration of the first dose. By not applying the second dose, the effect of the first dose is reduced, it is necessary to raise people's awareness while telling this to the general public. The target is to get the first dose administered to 100% of the eligible population by the month of September. Panchayat wise, work is being done by preparing the list of beneficiaries for the second dose.