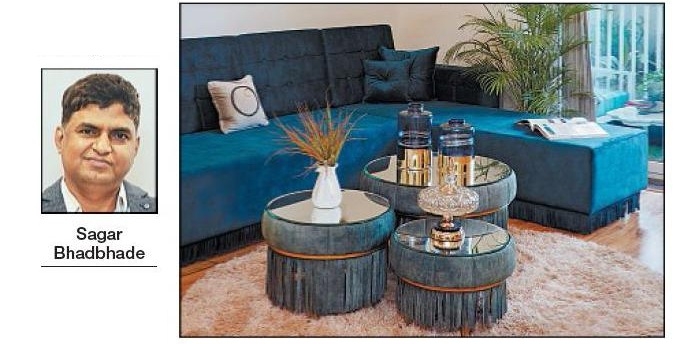 By Ravi Chandpurkar :
HIGHLIGHTING the importance of an art and technology in interior designing, Sagar Bhadbhade, Managing Director of Ferroart while speaking with The Hitavada said, "At Ferroart we have taken the interior designing scenario to next level by combining art and technology in our highly specialised work. We have formed an expert team comprising of artists, architects, interior designers and engineers that work together to provide the best quality interiors as per the aspirations of clients." Apart from this, the ISO certified company has recently launched Central India's biggest interior designer studio at D-27, Central MIDC, Hingna.
The massive designer studio is spread over an area of 10,000 sq ft. The plush designer studio provides a real glimpse of what a dream home should look like. The company has taken extraordinary efforts to portray just how space is utilised and how much illumination every room of the house requires. The designer studio showcases a variety of interiors so that customers understand the concept of interior designing. It provides wall to wall picturisation in true sense, Sagar Bhadbhade said. The interior designer studio displays magnificent living room, bed room, children's room, kitchen, pooja room, meeting hall, bath room, terrace, office room and much more. "People who's bungalow or flat is under construction should visit the interior designer studio to get a crystal clear idea of what we mean," Sagar Bhadbhade said. "We take into account overall interior designing concept.
We create everything original which blends with natural surroundings. All the rooms are done according to Vastu Shastra. We also try new things in projects like artists painting walls. All these things give out vibes and when a person looks at the room he gets an emotional reaction," Sagar Bhadbhade said. Ferroart's new interior designer studio is getting an overwhelming response from the people. Outstation people are also visiting the studio to get a glimpse of the latest in interior designing. Ferroart is making everything in-house from designer furniture furniture to wardrobes in Greenply to modular kitchens to designer lighting to customised handles everything is processed in their technologically advanced manufacturing plant. They have got separate wood working machines and has metal working plant with in-house powdercoating unit as well. Cushioning with latest machines is also done under one roof, Sagar Bhadbhade added.