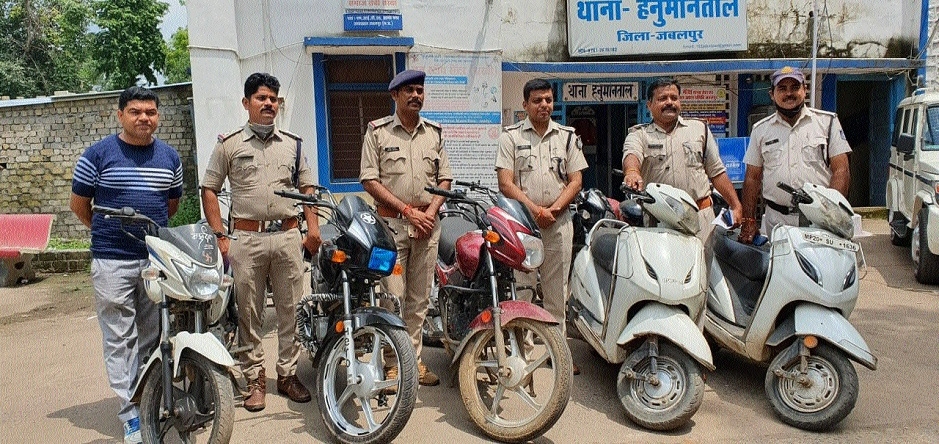 Police team with the retrieved stolen vehicles from vehicle-lifters.
Staff Reporter :
Hanumantal police arrested three vehicle-lifters and seized 12 two-wheelers and an engine of a motorcycle amounting to Rs 6 lakh from them. The arrested accused have been identified as Sonu alias Shareef Ansari (25), son of Baiju Ansari, resident of Imam Bada in Hanumantal, Mohsin Ahmed Mansuri (25), son of late Maksood Ahmed Mansuri, resident of Madarsa Husainia in Hanumantal and Sameer Ali (25), son of Mustaq Ali, resident of New Anand Nagar in Hanumantal. CSP, Gohalpur, Akhilesh Gaur disclosed this while addressing a press conference, on Monday. He informed that under the direction of Superintendent of Police, Siddharth Bahuguna (IPS) police have started a special campaign against thieves and vehicle lifters under the supervision of Additional SP (City), Rohit Kashwani. During the campaign, police team led by SHO of Hanumantal police station, Umesh Golhani received information about a suspect, Sonu alias Shareef who was sight while riding on an unnumbered motorcycle.
Acting promptly on the information, police detained the suspected man in a case of vehicle lifting and seized a stolen motorcycle from him. In further investigation, the accused broke out and confessed more vehicle lifting cases with the help of his accomplices named Mohsin and Sameer. On his identification, police started a search and nabbed the two more accused and seized 11 more stolen motorcycles and a motorcycle engine from them amounting to Rs. 6 lakhs. Police learnt that Sonu alias Shareef is a habitual vehicle lifter. Cops registered a case against the accused under Section 41(1-4) of CrPC and Section 379 of IPC. Vehicle lifters were arrested with active working of police team led by SHO, Umesh Golhani comprised of Prem Sagar Chowki, in-charge, SI, Prabhakar Singh, SI, Dinesh Gautam, Head Constables, Arun Dubey, Ajay Dabral, Vijay Pathak, Constables, Ramji Pandey, Brijesh Tripathi, Mahendra Shukla, Mahendra Visth, Chandrabhan, Pradeep and Harendra.