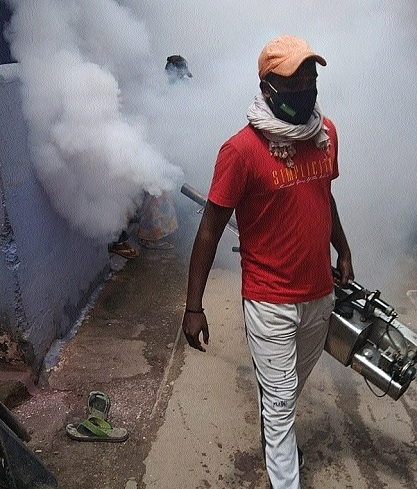 An JMC employee fumigating one of the localities in a densely populated area of the city.
Staff Reporter :
The Jabalpur Municipal Corporation (JMC) is carrying out special drive to protect citizens from dengue and other infectious diseases. The Health Department of the JMC is spraying insecticides and also using fogging machines in all 16 divisions of the city to end mosquito menace. Accordingly, special teams of the Health Department, on Monday, conducted drive in several wards of the city. JMC employees used fogging machines to kill mosquitoes. Likewise, the employees also sprayed medicines and poured bleaching powered to kill mosquito larvae. Senior officials informed that the JMC administration has constituted special teams to execute the drive in all 16 divisions of the city for prevention of dengue and other infectious diseases in the city.
The teams are spraying bleaching powder through machines and also using fogging machines. On Monday, the teams conducted drive in George D'Silva Ward of division no 4, Subhadra Kumari Chauhan Ward of division no 13, Nirmal Chand Jain Ward division 7, Ward 78 under division 15, Dengue affected areas under division 10, VIP area under division 11, Brahma Kumari Ashram, area in front of Bhanwartal Garden, Madrasi Mohalla, Gorakhpur Gurdwara, Howbag Station, Defense Colony, Kewat Mohalla, Katni Dafai, Chaudhary Mohalla, Sanatan Dharma Mandir, Gorakhpur, and many other areas of the city.