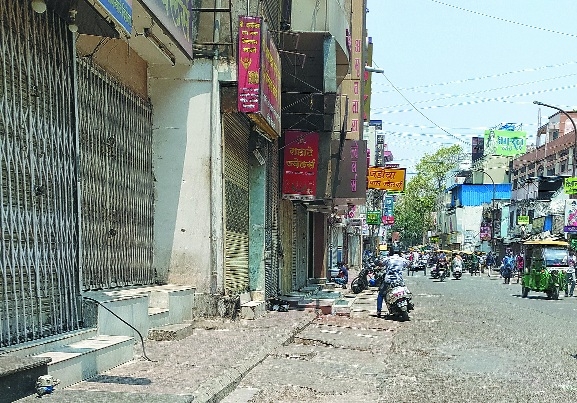 Business Bureau :
The entire jewellery trade in the district came to a standstill on Monday as almost all of the jewellers participated in the one-day token strike. The jewellers are opposing the arbitrary implementation of HUID (hallmark unique identification number) of gold jewellery introduced by the Bureau of Indian Standards (BSI) with effect from June 16 in a phased manner. As per the call given by the special fast force comprising 100 office-bearers of various bodies of jewellers from all over the country, the Nagpur Sarafa Association participated in the strike. All India Gem and Jewellery Domestic Council has also extended support to the bandh. The Sarafa Bazaar in the city's Itwari market wore a deserted look right from the morning hours and so was the situation of other jewellery markets across the district. More than 3,000 jewellery shops in Nagpur district remained closed on Monday. There were similar reports coming in from other parts of the country.
Office-bearer of the GJC and Secretary of Nagpur Sarafa Association Rajesh Rokde called the strike a complete success. "Amid the festival season, the jewellers, who are already bleeding due to recent restrictions imposed on account of COVID-19, took part in the strike and observed total bandh. It shows the intensity of resentment against the new system," he said. It is important to note that the jewellers have been saying that they are not against the gold hallmarking, a purity certification of the yellow metal. In fact, Nagpur Sarafa Association and other bodies have welcomed the initiative. However, the system of HUID, part of the mandatory gold hallmarking, seems to be not going down well with them. "HUID is causing great inconvenience to all the jewellers.
We are facing hardship as there are only four facilities for hallmarking for all the jewellers in eleven districts of Vidarbha. It is time consuming and impractical. This new system is also killing precious time of the jewellers as well of the customers," jewellers observed. The Government has recently identified 256 districts from 28 States and union territories for the phase-1 implementation of the HUID. According to the jewellers the new HUID system is consuming 6 to 7 days to hallmark the jewellery, which is ultimately affecting the business. In addition to this, there are very strict provisions in the law to punish the jewellers for the non - compliance. The penal and criminal consequences on the jewellers, who have not manufactured or hallmarked the jewellery and sold it like a trader, would bring in 'Inspector Raj' in the country, the jewellers felt.