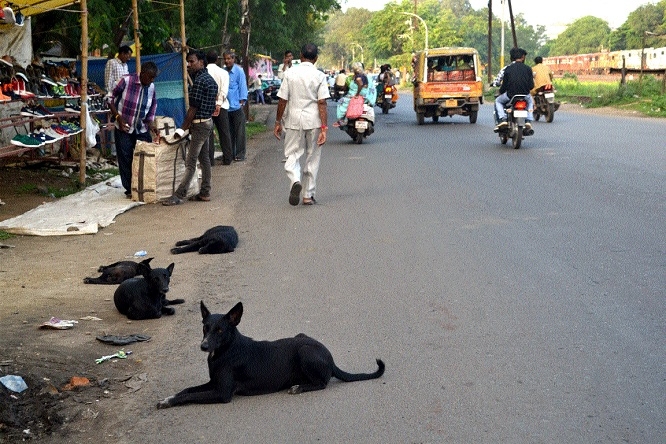 Street dogs taking nap along a busy road in Ranjhi area. (Pic by N K Budhodi)
Staff Reporter :
With the rapid increase in population of stray dogs in various areas of the city, cases of dog bite are also increasing at a rapid rate. Once again, people are forced to face street dogs' terror. People feel threatened to walk alone on the roads, especially during nights. Herds of dogs roam on every nook and corner of the city charge pedestrians as well as motorists. The terror of stray canine menace becomes very serious. Despite knowing the reality, the health department of the Jabalpur Municipal Corporation is taking no sincere steps to end stray dogs menace. It may be mentioned that rapid increase in the population of street dogs has once again becomes nuisance for citizens. Packs of street dogs can be seen at every nook and corner of the city.
The dogs charge bikers and pedestrians and even chase for long distance the four-wheelers. Many such cases are reported recently when stray dogs wounded people. The Municipal Corporation has been accused of running away from its responsibility of catching street dogs. The JMC has no specific squad to catch dogs and also not having adequate space to keep canines safely and properly. The JMC also pays no attention to vaccinating stray dogs. Generally, civic bodies in big cities have dog squads.
They also conduct vaccination drive from time to time. But the JMC shows no interest of having such special squad to rid people of street dog menace, conduct vaccination drive to check growing population of dogs etc. It is noticed that social and voluntary organisations even public representatives draw attention of the JMC towards the menace. But, it pays no heed to their voice. The indifferent attitude of civic body is proving costly to citizens as stray dogs are keep on biting people regularly.