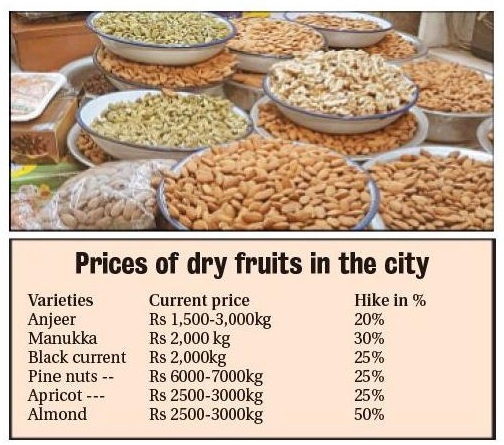 Business Bureau :
The political turbulence in Afghanistan seems to have dealt a crushing blow to those here in the country who consume dry fruits to boost their immunity. Ever since the Taliban took control of Afghanistan, the country's bilateral trade relations with other nations came to a grinding halt which eventually caused disruption in supply of dry fruits among other commodities. Many varieties of dry fruits that were being imported from Afghanistan are in short supply in the Indian markets and its prices have shot up dramatically.
Anjeer, munakka, black currant, pine nuts, apricot and almond prices have seen price rise in the range of 25 to 50 per cent in a span of less than 30 days. The price of almonds, which were selling at Rs 1,800 to Rs 2,000 per kg in July end, shot up to a level of Rs 2,500 to Rs 3,000 per kg on Tuesday. Similarly, prices of anjeer jumped from Rs 1,200 - Rs 2,500 to Rs 1,500 - Rs 3,000 kg; black currant from Rs 1,500 per kg to Rs 2,000 per kg; pine nuts from Rs 4,500-Rs 5,000 per kg to Rs 6,000-Rs 7,000 kg and apricot price went up from Rs 2,000-2,200 per kg to Rs 2,500-Rs 3,000 per kg during the same period. Mukesh Lakhwani, one of the leading dry fruits dealers in the city and proprietor of World Best Dry Fruit, confirmed that the prices have jumped significantly in the last two to three weeks. "Dry fruits are in great demand these days as people are consuming it to improve their immunity.
Apart from this, we also have the festive season round the corner. But these commodities are in short supply due to the Afghanistan crisis," Lakhwani said. Another dealer, who wished not to be quoted, also said that dry fruit prices are flying high. "We buy most of the dry fruit varieties from Afghanistan because of its good quality. But because of the political instability, the supply has gone haywire and I think it is going to remain like that for the next few months. This uncertainty will further impact the prices," he observed. Dry fruits that are loaded with essential oils, proteins, and calcium are considered as immunity boosters and off late a large number of people have started regularly consuming it in the backdrop of the outbreak of the coronavirus.