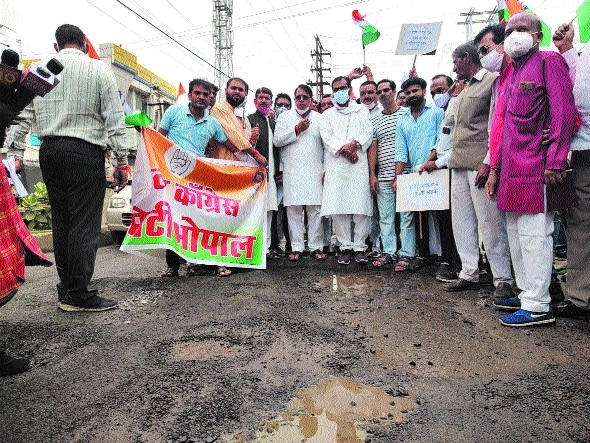 Congress workers led by MLA P C Sharma protesting against bad condition of roads in Kolar on Tuesday.
Staff Reporter :
Former Minister and Congress MLA PC Sharma is on expedition to protest against pathetic roads of city. On Tuesday, he and Congress men protested against pathetic condition of roads in Kolar locality. Demonstrators led by PC Sharma gathered at Mandakni square and protested against the bad conditions of roads in Kolar. They were carrying banner and flags of Congress party. They raised slogans against the bad condition of roads which are becoming a cause of road accidents. They said that pit riddled roads are becoming a big problem for commuters.
Even during the light showers, there is problem of water logging at roads. The deep pits on roads are also becoming a major reason of road accidents. Later demonstrators handed over memorandum to SDM, demanding repair and maintenance of roads. On this occasion, Congress District President Kailash Mishra said that development is not in sight in Kolar. Maximum roads have become pathetic and during rains, road pit gets filled with water.
He said that Congress party has given a memorandum to SDM. He told that if roads are not repaired in fifteen days then Congress party will do a big movement. Notably, CM had also expressed his resentment on pathetic condition of roads of Bhopal in the recently held meeting. He was so angry that he ordered that Capital Project Authority should be closed and roads should be maintained at earliest.