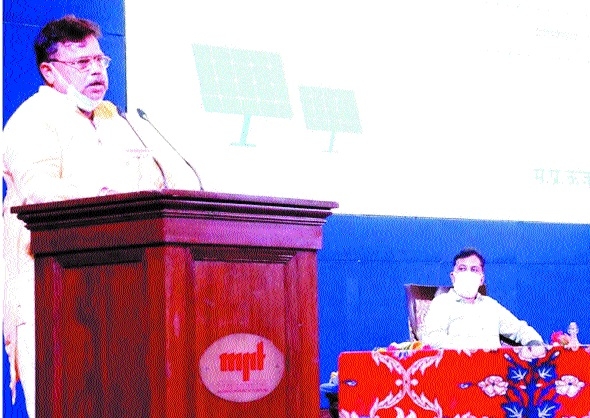 Energy Minister Pradhyuman Singh Tomar addressing the
workshop at Minto Hall in State Capital on Tuesday.
Staff Reporter :
Electricity Minister Pradhyuman Singh Tomar said that energy department will purchase electricity produced by farmer. He was addressing a workshop organised for solar energy producers under PM Kusum Yojana- "A" at Minto Hall in State Capital on Tuesday. New and Renewable Minister Hardip Singh Dang said that there will be estimated expenditure of Rs 10 lakh on establishment of solar plant (to be installed by farmers) and it will generate income of Rs 50 lakh to Rs 60 lakh. Solar plant will give income till at least 25 years. Both Ministers Pradhyuman Singh Tomar and Hardip Singh Dang presented letter of award to selected farmers.
Tomar said that coal and oil resources are reducing. He was of the view that by using solar energy, state's electricity production can be increased. He said that profit on sale of electricity produced by farmers will bring new happiness in lives of peasant. He appealed to save electricity which will ultimately result into electricity bill of lesser amount. He informed that new and renewable energy is fulfilling 25 percent need of total electricity consumption. Hardip Singh Dang told to farmers that seed sown by solar energy will provide benefit for years.
He said that bank easily provides loan for setting up of solar plant. Hardip Singh Dang said this will help farmers in becoming industrialists as well. He told that New Delhi's metro is running through the solar energy produced by Rewa solar plant. The world's biggest floating solar plant is being constructed in Omkareshwar and it will provide solar energy of 600 mega watt. Principal Secretary for New and Renewable Energy, Sanjay Dubey told that along with crop producers, farmers will now also become energy producer. He appealed farmers to make state pioneering in this regard.