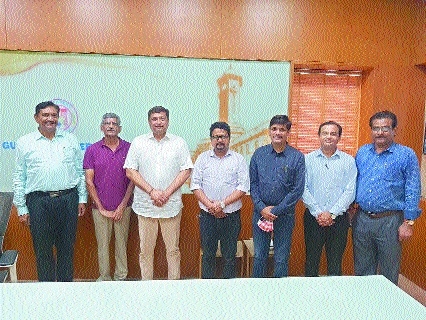 Dr Sharad Suryawanshi, Director, Physical Education and Sports, RTMNU (C), Dr Dhananjay Welukar (2L) with officials of Gujarat University, Ahmedabad, on Tuesday.
By Paritosh Pramanik :
CONTINUING their study tour, members of Rashtrasant Tukadoji Maharaj Nagpur University (RTMNU) visited Gujarat University in Ahmedabad to get the knowledge of indoor sports complex and other facilities on Tuesday. Director of Physical Education and Sports, RTMNU Dr Sharad Suryawanshi, former director Dr Dhananjay Welukar along with architect Anand Sarda are on a two-day tour of Ahmedabad where they would be collecting details about the indoor sports complex. This is RTMNU delegates' second visit after they toured Marena-Manipal Indoor Sports Arena, Manipal a few days ago. RTMNU will be constructing indoor sports complex at its premises in Ravi Nagar with an estimated cost of Rs 30 crore. The funds will be generated from various sources including CSRs. The study tour is planned so that one of the best sports complexes of the country is constructed in Nagpur.
"At present we are at Gujarat University in Ahmedabad. This is our second visit after which a blue print will be prepared by the architect," said Dr Suryawanshi while talking with 'The Hitavada' over phone from Ahmedabad. "The university is spread in 43 acres of land and have excellent sports facilities. We saw the indoor swimming pool which is of international standard. We liked the idea and the planning with which it is constructed. Similarly, the shooting range here is of international standard apart from facilities for badminton and other sports," added Dr Suryawanshi. "The sports university also has a hostel which can accommodate 2000 students," Dr Suryawanshi further said. "We will also be visiting SAI Hostel in Gandhi Nagar and the Swarnim Gujarat Sports University," informed Dr Suryawanshi. On Wednesday the delegates will be visiting several private clubs which have multi-storey sports complexes. "We will get more idea on how we can utilise space for other sports facilities by constructing multi-storey complex," he said.
Earlier this year RTMNU had formed a committee headed by former Board of Studies Chairman Babanrao Taywade for indoor sports complex. The other committee members include Suryawanshi, who is also the secretary of the committee, former mayor Kundatai Vijaykar, Management Council member Vishnu Changde, former India cricketer Prashant Vaidya, Arjuna and Dronacharya Awardee Munishwar, Senate Member Adv Manmohan Bajpayee, Dr Welukar, Maharashtra Netball President Vipin Kamdar, former handball player Viral Kamdar and Sanjay Bhende. The proposed land for indoor sports complex, which is situated at the left side of entrance gate of the Sports Stadium in Ravi Nagar, is sufficient enough to construct the indoor stadium. "The area is sufficient for our dream project. It is approximately 90 metres in length and 40 metres in width. There is another 60 metres of unused land at the back side," Dr Suryawanshi had told this newspaper. The proposed project would cost around Rs 35-40 crore. RTMNU will contribute around Rs 5-8 crore. RTMNU will try to generate money through CSR. It can also get grant from Khelo India Sports Infrastructure Development Scheme. "This academic session State Government has helped Aurangabad University. Next year we will submit our proposal," Dr Suryawanshi had informed.