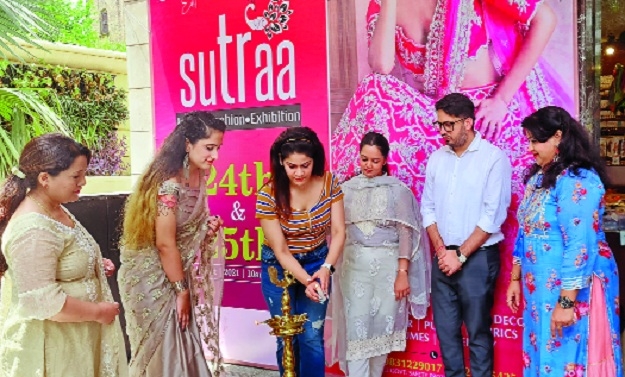 Business Bureau :
Sutraa Lifestyle Exhibition was inaugurated by well-known exhibitors with Umesh Madhyan, CEO of Sutraa and team on Tuesday at Hotel Tuli Imperial, Ramdaspeth. The exhibition is showcasing a range of lifestyle products from all over the country for its shopper's till August 25. "At SUTRAA, our vision is to provide our patrons best selection of well curated fashion and lifestyle products, at a marquee venue in a relaxed and an upscale environment. We put in endless hours to get organised, sync design elements with strong branding focus that gets reflected in all our communication - be it invites, billboards, advertisements or event decor," said the organisers.
SUTRAA enables customers to buy the latest fashionable products at value for money including designer sarees, maxi skirts, gowns, resort wear, party wear, kids wear, stoles , scarfs, ethnic wear, holiday wear, shoes, footwears, summer collections, accessories like bags, slings, hair accessories, earrings, bangles, home asthetics, handicrafts, jewellery, and much more. The quick easy but sophisticated platform for shoppers narrow down the many options to find the perfect apparel and accessories for themselves.
While jewelry is a very personal thing - gifts from your significant other, family heirlooms, and purchases to mark milestones - it can also be a reflection of your style spirit. Some people can't go out of the house without loading up necklaces, while for others simple studs will do. Get Ready for wedding and festive edition of 'Sutraa - The Indian Fashion Exhibition' till August 25 at Hotel Tuli Imperial, near Ramdaspeth.