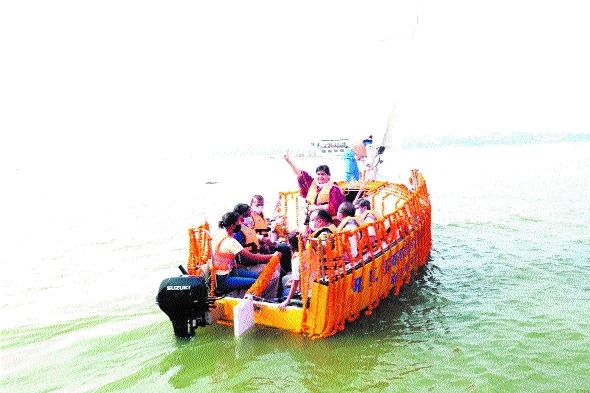 Minister Usha Thakur taking a ride on tourist sailing boat at Boat Club of Upper Lake in Bhopal on Tuesday.
Staff Reporter :
Tourism, Culture and Spirituality Minister Usha Thakur said that Bhopal is making its mark at the national level in terms of tourism with the innovations of the Tourism Corporation. Drive in cinema, rail restaurant and now sailing boat are the latest examples. She was addressing the programme organized for the launching of 'Tourist Sailing Boat' for tourists at the Upper Lake Boat Club. She said that Bhopal has a tradition of making new innovations since time immemorial. The Tourism Department is constantly making new innovations to facilitate the tourists to live a happy life while keeping them stress-free. She inaugurated the boat operation after offering prayers. She enjoyed the ride while inviting the tourists too to take a sailing boat ride.
She also took stock of the facilities provided to the tourists in the boat. Principal Secretary Sheo Shekhar Shukla said that the new feature of water sports, the sailing boat, will enhance the beauty of the Upper Lake. The pollution-free and eco-friendly sailing boat makes it even more special. There is a woman crew captain in the boat for the convenience and safety of women.
To increase the participation of women in the tourism sector, local women will be given employment by training them in tourism hotels, tourist spots and services provided by the Tourism Department of the state. Managing Director of Tourism Corporation S. Viswanathan said that it is a matter of pride that the sailing boat that runs in oceans will now run in Bhopal Lake. Tourists will also be made to travel around Van Vihar in the hour-long tour. The Tourism Corporation is constantly making new innovations to connect tourists with exciting activities which include scuba diving in Sailani Island of Khandwa and river water rafting in Ken river, Betwa river and Bhedaghat in Jabalpur will also be started.