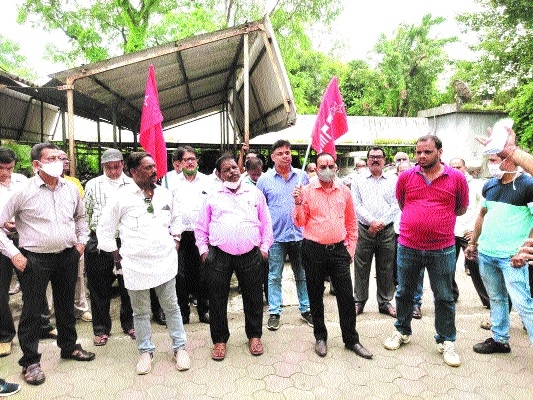 BSNL employees staging demonstration at GMTD CTO Compound.
Staff Reporter :
BSNL employees staged a demonstration to register their protest against alleged anti-worker policies of General Manager of Jabalpur Telecom Circle at GMTD, on Wednesday. The demonstration was staged in the series of protest against general manager. Addressing the public meeting, BSNL Employees Union, President, Lakhan Patel said that employees are facing tough time in performing their duties due to anti-worker policy of the General Manager while customers services is also on stake due to careless working of officers. He charged that medical bills of employees are pending since year 2018 and BSNL administration failed in providing any relief to employees during COVID-19 pandemic. A large numbers of employees were transferred in rural areas.
He charged that despite giving contract to private companies in rural areas, unnecessary deployment of employees is just waste of manpower. Following the mismanaged working of the senior officer, customers are also facing trouble in accessing BSNL services and repairing of faults. The department is also bearing huge revenue losses due to migration of its customers. Private companies are being given undue advantage of wrong policies and deteriorating the performance of BSNL Jabalpur Circle. Employees handed over 8-points memorandum to the BSNL administration and warned that in case of not taking positive action on their demands, a massive protest campaign will be started in the near future.