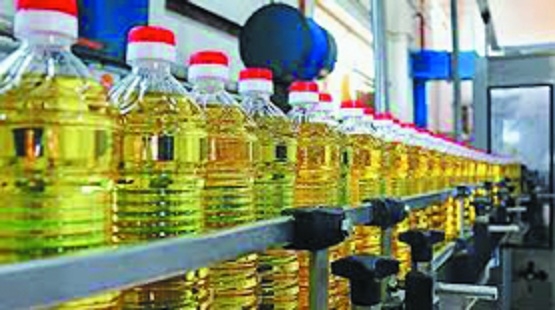 Business Bureau :
The edible oil prices have gone through the roof from the past five months and are showing no signs of falling back. Most trades feel that the edible oil prices like soyabean would remain steady at the current levels of Rs 140 to Rs 150 per litre as the demand has slowed down. "Although the festive season has begun, we expect the edible oil prices to remain steady thoruhgout the month of September as demand has slowed down and till the new crop hits the markets in October," said Rajesh Thakkar, President of Oil Merchants Association and owner of Shantilal Oils Pvt Ltd, Itwari while speaking to The Hitavada. He further said that the Government has reduced basic Customs Duty on soyabean oil and sunflower oil by half to 7.5 per cent to boost domestic supply and bring down prices.
This measure of the Government has had little effect on reducing edible oil prices as of now, but its affects could trickle down in the coming days. Thakkar expects that edible oil prices have peaked out for the year. With predictions of good monsoon and weather conditions there are high expectations of bumper soyabean crop this year. The new soyabean crop is set to arrive in the month of October and the edible oil prices could fall. Similarly, the soyabean crop in major growing countries like US and Argentina are also expecting good production which may reduce edible oil prices in the international market, he said. In the wholesale market, edible oils like soyabean is being quoted at Rs 2,320 to Rs 2,350 for 15 kg tin. Similarly, palm oil is being quoted at Rs 2,100 to Rs 2,150 for 15 kg tin, groundnut oil is being quoted at Rs 2,450 to Rs 2,500 for 15 kg tin and sunflower oil is being quoted at Rs 2,250 to Rs 2,300 for 15 litre tin, he said. Last year in March, soyabean oil was available at Rs 90 per litre to Rs 100 per litre just before the first lockdown, he said.
"Our country imports about 60 per cent of edible oils to meet its domestic consumption demand. With lower supply of edible oils in the international market, the prices are continuously moving towards higher price levels," said further Thakkar. He said that the main reasons for the rise in soyabean oil price is due to lower production of the crop in US, Argentina and Brazil. These three countries are the major producers of soyabean in the world. Because of bad climatic conditions the crop production has declined. This has resulted in soyabean prices flaring up in the international as well as domestic market. Similarly, palm oil is imported from countries like Indonesia and Malaysia, while sunflower oil is imported from Ukraine and Russia. These countries are also experiencing lower production and therefore have raised the Export Duty, he said.