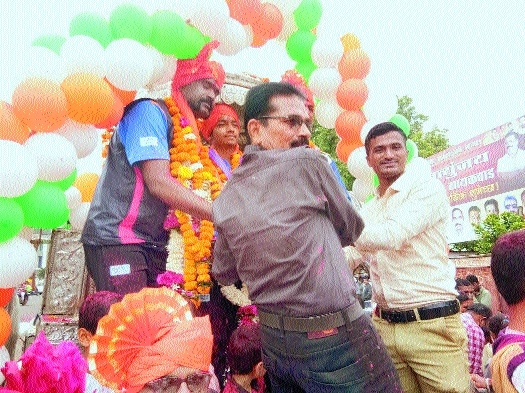 Mihir Apar being welcomed in Buldana.
Sports Reporter :
Processions taken out for World Youth Archery champs Mihir Apar, Manjiri Alone, Amar Jadhav
"It was a very emotional moment for me when I realised that we had defeated America in the Compound Round of the World Archery Championship to win the gold medal for India. I was at loss of words and did not know how to express myself," said Mihir Nitin Apar, visibly excited as his townsman poured in huge numbers to offer the champion a grand welcome in his hometown of Buldana. Apar arrived to a heart-warming reception in the city with crowds pouring in to see their hero. District Sports Office and various sports organisations welcomed him on his arrival in the city first time after winning the prestigious gold medal for India.
A vehicle turned into a chariot was decorated voluntarily by people to take his procession around the city. The procession moved from Jaisathambh Square to his residence and all the way crowd cheered filling the air with joy and jubilation. "The next step for me will be to not bask too much into my recent glory but to continue to work truthfully in days to come," said Mihir, who gave the credit of his success to his parents and trainer Chandrakant Ilage. MLA Sanjay Gaikwad, Mihir's parents, trainer Chandrakant Ilge, Vijaybhau Wankhede of Tejaswi Sports, Buldana, Anil Ingle, Sports guide of the District Sports Office and others were present during the procession.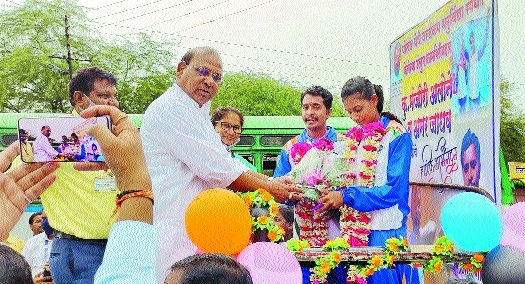 Manjari Alone and Amar Jadhav being honoured in Nandgaon Khandeshwar.
A grand felicitation programme was organised by Eklavya Archery Academy and people of Nandgaon Khandeshwar on the arrival of Manjiri Alone, bronze medallist at recently held World Youth Archery Competition held at Poland and Amar Jadhav who coached the Indian archery team, to the town after their tremendous success. Manjiri Alone, a talented young archer from Eklavya Archery Academy won 2 bronze medals including one each in individual and other in double event to bring laurels for the district. Amar Jadhav was also appointed as the coach of Indian team.
A grand rally was organised to welcome the heroes. Various political parties and organisations had erected gates at Bus Stop and other areas to welcome both on their arrival. Manjiri and Amar Jadhav stood on beautifully decorated open gypsy while the 'Dhol Tashas' and patriotic songs announced their arrival. The rally passed through all major streets of the town. They were welcomed and congratulated at various places in the towns. People were standing on both side of the road to welcome them. The rally concluded at Eklavya Archery Academy where they both were felicitated. Ramdas Tadas, MP, Pratap Adsad, MLA from Dhamangaon Assembly Constituency, Vinod Khedkar, Block Development Officer of Panchayat Samiti, Kalpana Thakare, Block Education Officer of Nandgaon Khandeshwar Panchayat Samiti felicitated and welcomed Manjiri Alone and Amar Jadhav.
Sadanand Jadhav, Shivchhatrapati Awardee and also guide of the Eklavya Archery Academy, informed about the problems regarding the Mission Olympic 2024 set by Archery Academy in the introductory speech. Ramdas Tadas, MP, while addressing the programme assured to solve problems and also to extend help from government scheme and also from his own Vyayamshala. Pratap Adsad, in his speech, also expressed to extend all help for the development of the players. At the outset, guests honoured Manjiri Alone and her parents and Amar Jadhav along with his parents and wife. Vilas Marotkar, Headmaster from Eklavya Gurukul School conducted the proceeding of the programme. Citizens, players from Eklavya Archery Academy and others were prominently present on the ocassion. Various political parties, villagers, organisations and others also felicitated both Manjiri Alone and Amar Jadhav. Uttam Murade honoured both presenting cash amount of Rs 5,000 each.