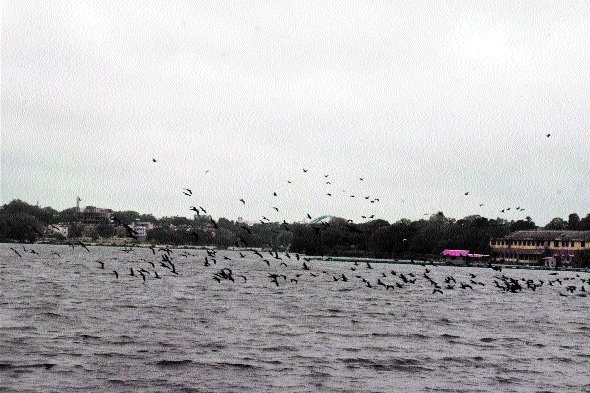 Birds flying over the Upper Lake on Wednesday evening.
Staff Reporter :
Rains have taken break in most regions of the State. Only sundry parts of state are receiving rains in the form of drizzling and light showers. Sky is mainly cloudy. In Bhopal, a spell of drizzling tried to drench the soil. In the meantime, rains are likely in few regions of state. Rainfall and thunder activities are likely in some places of Rewa and Sagar divisions. Rains are also likely in sundry parts of Shahdol, Jabalpur, Bhopal, Hoshangabad, Indore, Ujjain, Gwalior, Chambal divisions.
Thunder activities are likely in some places of Sagar and Rewa divisions. In last twenty four hours, rains occurred in Lal Barra (5 cm), Nagodh, Mihona, Raun (3 cm each), Raghogarh, Bareli, Simaria, Paraswada (2 cm each), Tendukheda, Ajaygarh, Nainpur, Amarpatan, Birsa, Lovekush Nagar, Mandla, Sewda, Ashok Nagar (1 cm each) respectively. The good thing is this that weather department has said that rainfall activities will increase in eastern region of state. The local forecast for Bhopal says that city will have partial cloudy cover and there is possibility of light showers. Bhopal's maximum temperature rose to 30.9 degrees Celsius, 2 degrees above normal level. Jabalpur recorded maximum temperature at 30.7 degree Celsius, 1 degree above normal. Bhopal received rainfall of 3.3 mm during day time on Wednesday. Jabalpur have traced rainfall activities. At least one dozen districts are facing deficient rainfall in state. Jabalpur is one of them. People are now praying for revival of monsoon activities so that state can get abundant rainfall activities. The rainfall activities in Bhopal have been so far at normal level. People in Bhopal are also hoping to get good amount of rainfall in coming days.