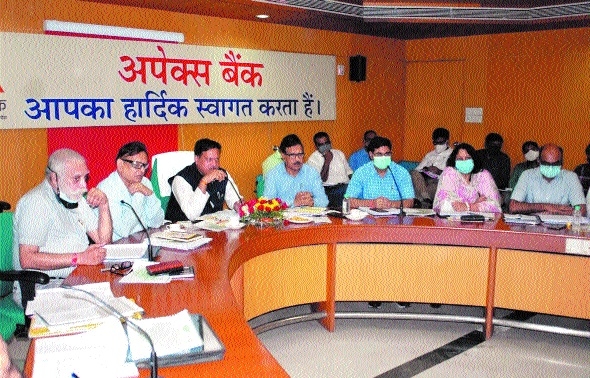 Cooperative Minister Dr Arvind Bhadoria holding review meet of District Cooperative Central Banks at Apex Bank auditorium in Bhopal on Wednesday.
Staff Reporter :
Cooperative Minister Dr Arvind Singh Bhadoria told that it's the responsibility of CEO to keep eye on functioning of District Cooperative banks. He said that strict action should be taken against those who are involved in wrong doing. He was addressing the review meeting of District Cooperative Central Banks at APEX Bank Auditorium in Bhopal on Wednesday. He informed that banks of Ujjain, Raisen, Khargone have achieved more than the target given to them in terms of loan distribution to farmers, recovery and other banking activities. On the other hand, banks of Satna, Morena, Datia have shown poor performance.
He asked CEOs in concern to look after such banks with utmost care and should contemplate to do improvement. In a veiled reference to officials having no interest in work, he told that responsibility should be given to eligible and vouched for disciplinary action against negligent officials. He instructed that banks should prepare annual calendar on activities of creative reform and fix the target. The next meeting will be done on the basis that which bank has done how much improvement. He warned that good performers will be praised and negligent will face the heat.
On detection of irregularity in Shivpuri Cooperative Bank, he told that appropriate legal action will be taken. The meeting was also addressed by Additional Chief Secretary Ajut Kesari. He told that cooperative banks should also function like other banks. He was of the view that if there is a bank then banking activities should take place. Salary to bank employees is given through the revenue generated by banking business. Referring to some banks, he told that these banks are in too much loss and they should improve their situation. He spoke about fixing of time limit to turn cooperative banks as modern banks.