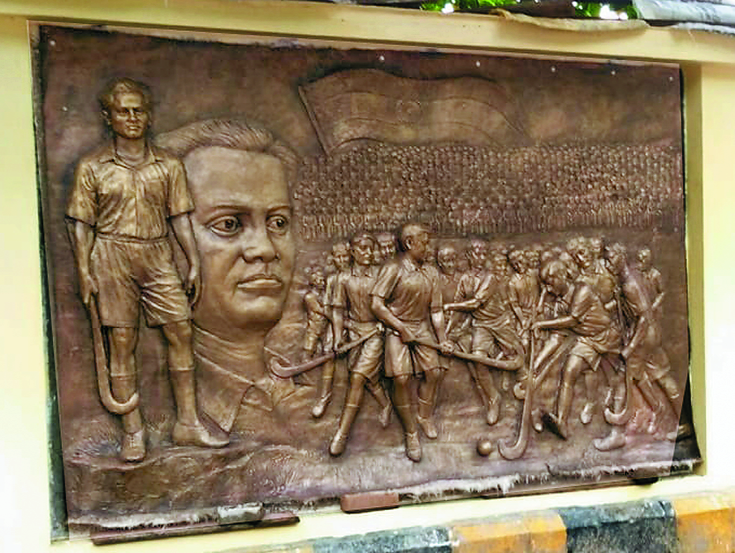 MAHARASHTRA Sports Minister Sunil Kedar will inaugurate the mural of hockey legend Major Dhyan Chand at Vidarbha Hockey Association (VHA) ground on August 29, National Sports Day. The function will be held at 10 am. Nagpur Mayor Dayashankar Tiwari will preside over.
VHA Administrator Triloki Nath Sidhra will be the chief guest on the occasion.
The mural is being made with the efforts of NMC Corporator Kishor Jichkar beside the gate of VHA ground, off Amravati Road.
The beautiful mural has photographs of Dhyan chand. The legend can be seen standing with a hockey stick in his hand. There is also a close-up photo of the legend. Players of yesteryears are also seen dribbling, most probably during the 1936 Berlin Olympics. The back portion of mural is decorated with tricolour along with spectators 'watching' the beautiful game.
The mural is made of fibre and measures 6ft x 9ft.
The mural is a combination of several photographs of Dhyan Chand and it took several months to finalise the pictures.
With the help of former hockey players Raju Reddy, Vivek Siriah and late Yagya Thakur, Jichkar collected photographs of the legendary Olympian. It took several months to select the pictures. Then, the artist made a collage of a few photos and then converted it into the fibre mural.
The mural will be illuminated in the evening which will add to its beauty.
The function, on Sunday, will be graced by Manisha Dhawade, Deputy Mayor; Prakash Bhoyar, Standing Committee Chairman; Radhakrishnan B, NMC Commissioner; Avinash Thakre, Ruling Party leader; Tanaji Wanve, Opposition Party leader; Jitendra Ghodeshwar; Duneshwar Pethe, Kishor Kumeria, Pramod Tabhane, Sunil Hiranwar, Kishor Jichkar, Sunil Agrawal, Nishant Gandhi, Ujjawala Varma, Rupa Rai, Sanjay Bangale, Leena Upadhyay and others.