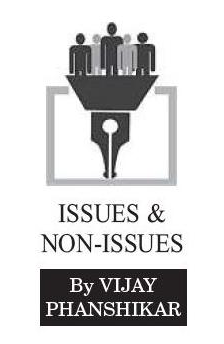 Lucknow, August 26 (PTI): President Ram Nath Kovind hoped that when it celebrates the centenary of Independence in 2047, India would become free of discrimination.
While speaking at the Convocation of Babasaheb Bhimrao Ambedkar University here, the President called upon youths to be job-givers rather than job seekers. ...
THOUGH the good sentiment behind this optimism is beyond question, there also is a general doubt hanging low over people's heads about the sincerity of approach of those who are running the country as regards the issue of creating a discrimination-less society. For, when the country is still clutching the outdated concept of caste-based reservation -- for whatever reasons -- then creation of a society without discrimination will always remain a pipe-dream.
This brings us to a major point of departure from the Indian normal, in the sense the issue expects us to travel beyond the official and social line of discrimination we have accepted as normal.
The reference, obviously, is to the different demands for expanding the scope and coverage of caste-based reservations in more and and more fields. Just recently, the Central Government passed a parliamentary provision enabling the States to create their respective lists of Other Backward Classes in their domains and jurisdiction. This legislation was accepted by all political parties across ideological divides since it made a terrific political sense for their vote-banks.
Add to this the continuing imbroglio of the caste-based reservation for communities such as Maratha and Patel and Gujjar in different State of the Indian Union, and the picture gets more complicated. For, as the nation has seen over time that the demand for such facilities based on caste and religion is only going to increase in intensity -- Bahati Ganga Mein Haath Dhone ke liye (Benefitting from the flow already in progress!).
How can the honourable President then expect the society to become free from discrimination? What kind of social justice does he have in mind?
These questions are not being raised to doubt the sincerity of the President's sentiment; they are being asked simply because the doubts in this regard are only growing with each passing day, particularly when the Government and the political community are so busy making arrangements that defy the logic favouring merit, no matter the caste, no matter any such consideration.
These are honest questions, stemming from the minds of average Indian people. Does the President -- or even the Prime Minister -- have a convincing answer to these doubts?
Of course, every supporter of such caste-based reservation will talk in terms of level-playing ground. But that is an outdated argument that has lost its sheen with the passage of time. Increasing numbers of youths outside the caste-based social matrices have been feeling a deep sense of frustration because of the officialised discrimination embedded in the concept. For, in such an approach, they see emergence of a social system that attaches a great value to mediocrity rather than to meritocracy.
There is no doubt that those who have the ability to think beyond politics will realise the truth in this growing sense of frustration and disgust in young generations. If India's demographic profile prides in having more than 65% of the population in the 'young' category, then can the country ever afford the ugly luxury of caste-based reservations that creates social silos in which your caste becomes your nemesis or your doorstep to heaven?
Was it not this very historical reality that led social reformers to militate against an unjust social order? Then, why are their so-called followers and disciples still clinging to the concept of caste-based reservations in jobs and in admissions to educational eco-system?
This is the real issue.
Unfortunately, the supporters and promoters of the concept of caste-based reservations do not realise that they are making way for a system in which merit will have a lesser importance. Can the country expect to run its systems of government or education or research or sports or industry or business on the basis of people who have entered those only because they belonged to certain castes?
This is certainly not an easy question to respond to. But there also is no doubt that in time not so distant in future, this question will come up menacingly challenging all our set beliefs and norms, threatening to singe us all in the process.
There are reasons to believe, however, that men of the calibre of Dr. Babasaheb Ambedkar, too, did not expect the socio-political situation in the country to take such a turn in times to come. In fact, they seemed to believe that in due course of time, the country would abandon the concept of caste-based reservation and get on with treating every persons in a caste-less manner, in the sense treating every person as a human individual unencumbered by caste.
Of course, one cannot dismiss altogether the social reality that countless numbers of people among us are still to reap the actual benefits of positive social affirmation. But the time has come to realise for ourselves that the country's political community has led the country to this point of social doom and depth because its members were hardly serious and sincere about the implementation of the concept of social justice in its fullness.
That is why, the time has now come to start accosting social and political leaders across the political spectrum to and confront them for their massive and almost deliberate mishandling of the great idea of actionable social justice.
It is not fathomable at this point if the larger society will ask such questions of the political leaders. No matter that, this scribe raises this question with all moral vehemence at his command.