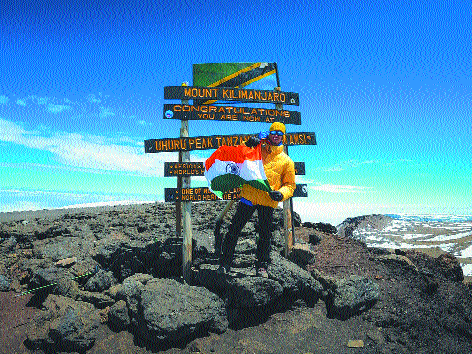 A 19-year-old youth from Washim has made the district proud by scaling Mount Kilimanjaro, the highest peak in Africa. Yash Maroti Ingole's dedicated efforts paid off on August 15 when he hoisted the National Flag at Kilimanjaro, 19,341 feet above sea level.
Though Washim does not have high mountains, Yash knew mountaineering was his calling right from childhood. He started with cycling and that helped him build up his stamina. Soon he started trekking as well.
Yash has climbed 18 forts in the Sayadhri Tange and 3 in Janjira, Colaba and Sindhudurg. In 2018 , he reached the highest peak in Maharashtra , Kalsubai, in both winter and monsoon seasons.
After successful expeditions locally, Yash set his eyes on the highest peak in Africa. He trained for its extensively and finally achieved one of his many goals on India's Independence Day by reaching on top of Mount Kilimanjaro.
About the experience of reaching the summit of Kilimanjaro, Yash said, "Kilimanjaro is the only peak in the world that has no mountains around it. It was freezing cold when the trek started. It was going to be difficult to walk because of the direct climb. The higher you go , the lower the oxygen level. I reached the peak on August 15 at 9 am. It being India's Independence Day, I felt very proud to have scaled a new height in my life. Seeing the Indian tricolour on top of Kilimanjaro was an incredible experience."
Yash spent a good three hours on the summit of Kilimanjaro. He arrived at the Marangu entrance at 7 am on August 16.
"I was able to reach the peak due to my training at the Himachal Pradesh Government Training Institute and because of the experience gained from climbing Kalsubai and other forts in the State."
Yash's father was his biggest support system in his endeavours. Washim's Collector Shanmugarajan S had also extended him financial help. The Collector gave him incentives and had also appealed officials to donate for him after which around Rs 1.70 lakh were collected and handed over to Yash.
The young lad has thanked all those who helped him achieve his goal.
Ask him what is his his mountaineering dream and Yash quickly replies, "Mount Everest, of course".