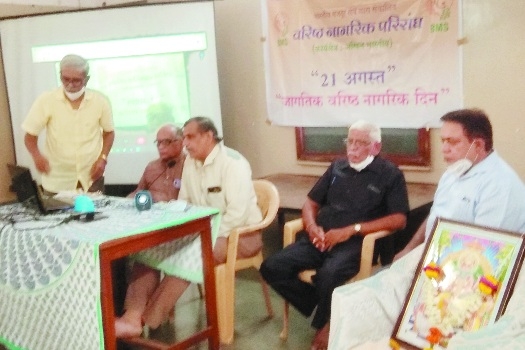 Business Bureau :
THE Varishta Nagrik Parisang guided by Bharatiya Mazdoor Sangh (BMS) celebrated 'Senior Citizens Day' on August 21, all over the country. Its main programme was organised at Nagpur. Vinay Kumar Sinha, All India General Secretary of BMS was the chief guest. Present were Jagdiswar Rao, Nita Chaube, Vice President, Ravindra Himte, Secretary BMS and Vasant Pimplapure, General Secretary Varishtha Nagrik Parisangh. On the occasion, V K Sinha said, "Senior citizen is an asset of the nation and not liability. On one side, the senior citizens are responsible for taking care of their children in order to safe guard their career, on the other side it is the responsibility of the children to respect the seniors at all levels."
He further said, "There are lot of problems before senior citizens related to family (Parivar) and society. The Government has to take care of them and especially look after their economic condition. Lakhs of senior citizens are totally dependent on others. Therefore their self respect is defeated. The senior citizens should get atleast need based wage in the form of pension." Senior citizens have spent many years rendering various services for the nation. Now it is the turn of family and society to protect their interest, so that they can enjoy a peaceful life, he said. Vasant Pimplapure said, "The main purpose of celebrating 'National Senior Citizens Day' is to raise awareness regarding the conditions of senior citizens and to support them throughout the ageing process.
The day is also recognised for the well being of the elderly to recognise and appreciate their accomplishments and their participation in society in order to promote their skills and knowledge." Jagdiswar Rao said, "It is the morale responsibility of the Government to impart social security to elders." While talking on burning problems of senior citizens, Rao said that the minimum pension under EPS 95 needs to be enhanced. There is no change in minimum pension from the year 2014. Lakhs of senior citizens are getting just Rs 1,000 or less as monthly pension. He further said that after retirement the senior citizens are getting terminal benefits which they deposit in bank either in fixed deposit or term deposit. That is the only source of income. However, the rate of interest is coming down.
The senior citizens should get minimum 9 per cent interest so that they can maintain their life without raising hands before others for money. Ravindra Himte said, "The reason to celebrate the day is to thank the elders for everything they have done and to acknowledge them. The families get an opportunity to give their love and commitment towards seniors." Vivek Deshpande, Chandrakant Deshpande, Suresh Choudhary, Mohan Kinhikar, Ramrao Navghare, Sudhir Dabir and Digambar Jagtap worked hard to make the function a success.