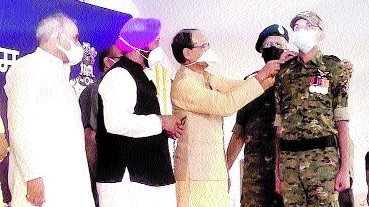 Chief Minister Shivraj Singh Chouhan is felicitating a police officer at a programme hreld at Balaghat police line on Sunday.
Staff Reporter :
Out of turn promotions given to 51 police officers and jawans
Promotion Alankaran Programme before police order in Balaghat
Chief Minister Shivraj Singh Chouhan said that the internal security of the country is strong due to the indomitable courage and bravery of police personnel. Our police personnel take care of our internal security risking their lives. No outside forces can harm our country and state with these bravehearts to protect us. Chief Minister Chouhan was addressing the promotion Alankaran programme before the police order at Balaghat Police Line. Chief Minister Chouhan felicitated 24 police officers and Jawans of Balaghat district and 27 of Mandla district by granting out-of-turn promotions to them by adorning them with stars on their shoulders and ribbons on their arms, for displayed indomitable courage in suppressing Naxal activities. Chief Minister Chouhan said that when we all celebrate Holi, Diwali, Eid, these bravehearts of the police remain alert and guard us.
The people of the state are proud of these jawans who lay down their lives for the security of the nation under such adverse circumstances. Chief Minister Shri Chouhan said that these jawans have displaying unprecedented courage and suppressed the Naxalites for endangering our internal security. Naxalism has been uprooted. Chief Minister Shri Chouhan while encouraging all the police personnel getting out of turn promotion said that the honour of promotion being given to you is the reward of your courage.
Everyone should work in the direction of maintaining the internal security of the state. The state government will make all out efforts to mobilize security arrangements and facilities for the jawans. Minister of New and Renewable Energy and Environment and District in charge Hardeep Singh Dang, Minister of State for Water Resources and AYUSH Ramkishore Kanwre, MP Dr Dhal Singh Bisen, Chairman of Mineral Corporation Pradeep Jaiswal, MLA and former Agriculture Minister Gaurishankar Bisen, District Panchayat President Rekha Bisen, former MLA Ramesh Bhatere, Director General of Police Vivek Johri, Additional Director General Intelligence Adarsh ? ?Katiyar, ADG Makarand Deuskar, along with public representatives and officers and employees were also present.