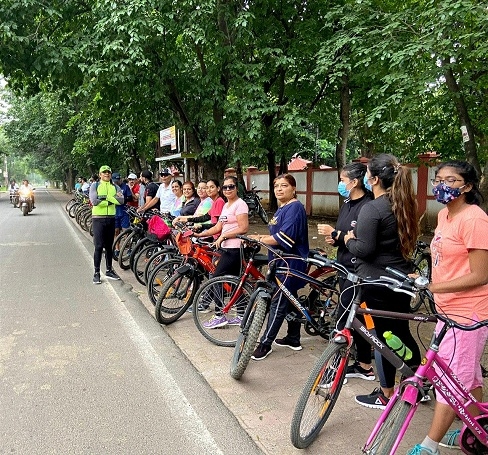 Senior officials of various institutions, students and volunteers participating in the cycle rally.
Staff Reporter :
The Jabalpur Smart City Limited (JSCL) organised a cycle rally to mark the National Sports Day on the birth anniversary of hockey legend Major Dhyan Chand, on Sunday. CEO, Smart City, Nidhi Singh Rajput inaugurated the rally by paying homage to the hockey wizard under the guidance of Collector Karmveer Sharma and Municipal Commissioner, Sandeep GR.
On the occasion, Arjun Awardee Madhu Yadav was also present. A number of cyclists enthusiastically participated in the rally conducted under the #Cycle4Change campaign run by the Government of India. In this rally, Assistant Commissioner Sambhav Ayachi, Ankur Khare, Balendra Shukla, Abhishek Dubey, Selja Sulere, Gajendra Singh, Yogesh Bhalerao, Sunil Namdev and members of Smart City and Food Safety Department Team of West Central Railway, Sports Officer Madhu Yadav, Mayank Dubey, Neeraj Keshwani, Kavita Chitara, Rajdeep Singh, Subhash Chandra. The riders of 20 super riders group Mayank Dubey, Deepak Aswani, Anurag Shukla, Sanjay Marwah and others participated in the cycle rally and gave the message of how to make the city cycle friendly. Mangalayatan University, RDU MKV Mahavidyalaya, Mahakoshal College, Government Mankunwar Bai Mahila Mahavidyalaya, Mahakaushal Mahavidyalaya and volunteers participated in the cycle rally. Mayank Dubey, Senior Commercial Inspector working in West Central Railway got first position in this cycle rally.