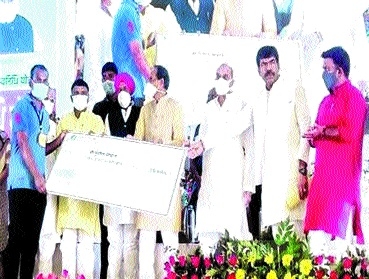 Staff Reporter :
Rs 50 crore distributed to 50,000 beneficiaries of PM Swanidhi Yojana
Chief Minister Shivraj Singh Chouhan has said that the State Government is continuously working for the welfare of the poor. Along with this, the quality of life of the poor is being improved through public welfare schemes. The government is determined to bring the light of development to the poor. We are working on the concept of inclusive development of the poor and Sabka Saath-Sabka Vikas. In the state, arrangements of bread, clothes, houses, education and medicines are being ensured for the poor. Chief Minister Chouhan was addressing the state level programme of distribution of first and second installments under Pradhan Mantri Swanidhi Yojana at Balaghat today. Chief Minister Chouhan transferred an amount of 50 crores into the accounts of 50 thousand beneficiaries of Pradhan Mantri Swanidhi Yojana with a single click.
Chief Minister Chouhan also launched the second phase of Swanidhi Yojana. In the second phase of the scheme, interest free amount of 20 thousand rupees each was transferred into the accounts of the beneficiaries. Chief Minister Chouhan said that this scheme has become a lifeline for the small traders who are affected during the Covid crisis. He said that small businessman can gradually increase their work with the help of Swanidhi Yojana. The government is working with commitment for the welfare of the most backward and the lowest. Appeal for vaccination Chief Minister Chouhan said that everyone's cooperation is necessary to prevent the third wave of corona. He urged everyone to adopt covid friendly behaviour. Also appealed for vaccination.
He said that the Covid vaccine is the vaccine of life, definitely get the vaccine. The person applying the first dose must get the second dose at their appointed time. Benefit distribution Chief Minister Chouhan distributed benefits from the platform to the beneficiaries of PM Swanidhi Yojana. Chief Minister Chouhan also provided cheques of assistance to the children identified for Bal Hriday Upchar Yojana. Credit distribution of Rs 4.26 crore was also done to 318 women self-help groups of the district. Chief Minister Chouhan also met the beneficiaries of Mukhya Mantri Covid-19 Anukampa Niyukti Yojana.