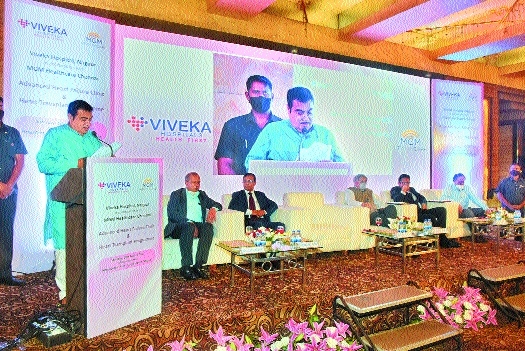 Union Minister Nitin Gadkari addressing the gathering. Dr Prashant Jagtap, Dr K R Balakrishnan,
Dr K G Jaiprasanna and others look on.
Principal Correspondent :
'Viveka' becomes first in Central India to perform heart transplant
People of Central India have heaved a sigh of relief as Nagpur's Viveka Hospital has become the first hospital in Central India that would perform heart transplant. The hospital has tied up with MGM Hospital, Chennai which has been performing the heart transplant since long now will support Viveka Hospital to do the heart transplant. It will be a major boost. Union Minister Nitin Gadkari who inaugurated this new avenue hailed the joint venture of Advance Heart Failure and Heart Transplant of Viveka and MGM Hospital Chennai. He highlighted that they should aim for big things and plan 100-bed hospital for which land would be made available at subsidised cost and think of 25 to 50 years ahead. Gadkari pointed out how his experience as MLC in Mumbai always saw people from Vidarbha occupying his room and gave details about lack of facilities. He was moved and started motivating local doctors and has seen transformation in Nagpur. "Public Private partnership will only be able to save life.
Funds are no problem if there is a will to serve," he pointed out and promised all out help to such projects. The London Street will soon be a Medical Hub where plots will be available but the cost should be affordable to people in the hospitals with International benchmark in services offered. I promise to get Chennai connected by air to Nagpur in next 6 months time," assured Gadkari. Dr K R Balakrishnan, Director Heart and Lung Transplant and Mechanical Circulatory Support, Dr R Ravikumar, Senior Consultant and Associate Clinical Lead Cardiology and Heart Failure Program Dr K. G. Suresh Rao, Co-Director Heart and Lung Transplant and Mechanical Circulatory Support all from MGM Health Care Chennai were guests of honour. Dr K. R. Balakrishnan, along with Dr R. Ravikumar and Dr K. G. Suresh Rao have performed more than 450 heart/lung transplants and more than 100 cardiac assists devices implanted (LVAD). Viveka Hospitals by associating with MGM healthcare intends to bring their expertise to Nagpur; so the people of Central India benefit from the services being provided at Viveka Hospitals who otherwise have to travel to Metro Cities with great inconvenience.
Dr K. R. Balakrishnan, said, "Our clinical team at MGM Healthcare will be working closely with the clinical team at Viveka Hospitals to establish the heart failure clinic and management programs for the patients. " Speaking on the association with MGM Health Care Dr K. G. Jayaprasanna, Sr. Consultant Cardiothoracic and Vascular Surgery at Viveka Hospitals added. "As Nagpur being the hub for medical facilities of Central India, we want to bring Nagpur on the world map of advanced treatment for heart failure. Our hospital is equipped with necessary infrastructure and equipment." Dr Ravikumar R. added, "The heart failure is an under-recognized problem in India. This clinic will be a crucial step to let patients have access to necessary expertise and management to treat their heart-related ailments." Dr Prashant Jagtap, Sr Consultant Cardiologist, Viveka Hospitals added that heart transplantation is an established procedure for advanced heart failure but there are many challenges. Organ transplant is equally challenging and it is precisely for this reason, a facility at Nagpur will help a lot of deserving patients from central India.
GMCH awaits nod from Govt As Dr K R Balakrishnan from MGM Healthcare Centre, Chennai rightly urged Union Minister Nitin Gadkari to set up heart transplant at every Government hospital, Government Medical College and Hospital (GMCH) had sent a proposal for the same in 2019 during the regime of Dr Sajal Mitra as Dean. Since GMCH has all the set-up. The name of Dr Nikunj Pawar too was finalised for performing the heart transplant of course with the support of some outer agency. Dr Satish Das joined and the movement got the boost. Had it got the further push, the project would have become the first in Maharashtra as far as any Government Institute is concerned. Present Dean Dr Sudhir Gupta too tried hard to get it started but probably Government is sitting on the file and the project remains a non-starter it seems.