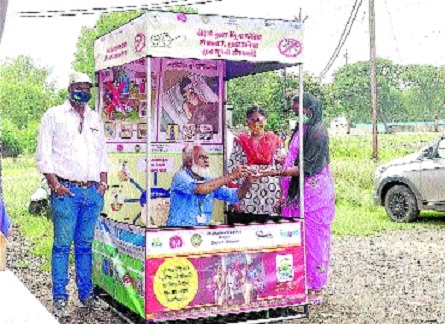 To test for malaria, a staffer is taking sample of a woman in the state capital on Sunday.
Staff Reporter :
As per the direction of Chief Medical and Health Officer Dr Prabhakar Tiwari, under the leadership of District Malaria Officer Akhilesh Dubey, a health camp was organised for dengue and malaria control at Ayodhya Nagar Bypass Ward 64 by Malaria Department, Bhopal Municipal Corporation (BMC) and Embed Project Family Health India. A public awareness campaign was also launched during the camp. District Malaria Officer Akhilesh Dubey informed that in the health camp, people were apprised about the prevention of dengue and malaria diseases and were also appealed to clean the freezer trays and the cages of birds inside their house, as dengue mosquitoes breed inside the house. Therefore, everyone's cooperation with the Malaria Department is sought to prevent dengue and malaria. Ayurvedic medicines were distributed to increase immunity under the leadership of AYUSH officers Dr Sudhir Pandey and Dr Sweta Bajaj. The medicines are effective in the treatment of dengue.
Dr Sudhir Pandey told that Ayurvedic medicine is being distributed by the department for malaria and dengue control, which is very beneficial, so all people can come to AYUSH hospital and avail this medicine. During the larvae survey conducted by District Coordinator Embed Project Family Health India, Bhopal, action was taken to destroy the larvae found at various places and the people present were enlightened about the prevention of diseases like dengue and malaria through small efforts. District Advisor Ruchi Silakari informed that a survey of 200 houses was conducted in the camp on Sunday, in which larvae were found in total 39 containers. They were destroyed as well as activities to curb larva were carried out with the help of Municipal Corporation.
The team distributed pamphlets door to door and informed people about larvae, under the leadership of Malaria Inspector Urmila Singh. The consistent cooperation of ASHA workers is being observed in the larva survey. The camp was organised in conjunction with the zone in-charge Rajan Saxena and Mrigendra Gaur, in which a total of 46 people were tested positive for malaria. None tested positive for malaria. During this, the team of Malaria Department, ASHA workers, Municipal Corporation and Embed Project were present.