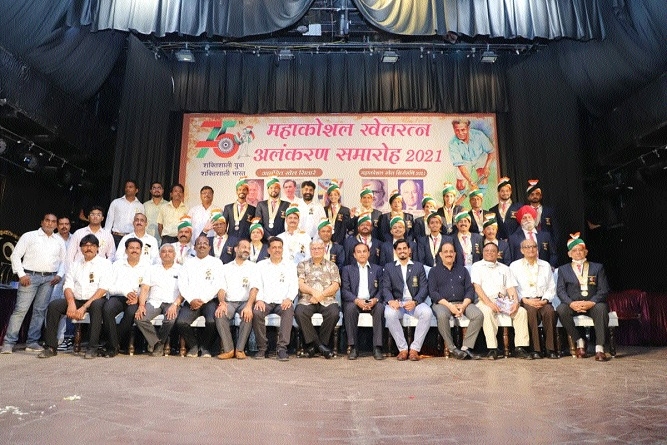 Mahakoshal Khel Ratna Awardees with guests during the ceremony.
Sports Reporter :
National Sports Day was celebrated to mark the birth anniversary of hockey 'magician' Major Dhyanchand by felicitation of sportspersons at the 'Mahakoshal Khel Alankaran Samaroh 2021', on Sunday. The felicitation ceremony was organised at Shaheed Smarak Auditorium under the auspices of Mahakoshal Krida Parishad. The programme was organised with an aim to encourage upcoming talents and recognising the contribution of sportsmen in promotion of sports in the region. Chief guest on the occasion was Rajya Sabha Member of Parliament Vivek Krishna Tankha while MLA, Vinay Saxena, MPOA, Secretary, Digvijay Singh and Ravi Gupta were special guests. Guests of honour during the programme were former Olympian Aslam Sherkhan, former Cricketer, Rajesh Chouhan and former Olympian Ankit Sharma.
During the programme, guests conferred the Khel Shiromani 2021 awards to late Shivprasad Nigam (Posthumous) and BK Pathak while players who raised the name of Mahakoshal region in several national and international competitions were honoured during the programme include Mahakoshal Khel Ratna to Dr. Rakesh Tiwari (President Medal recipient for saving life), Newton Daniel (Hockey), Jodha Singh (Athletics), Paramjeet Singh (Weight Lifting), Yogendra Tiwari (Cricket), Sunita Panch (Power Lifting), Seema Tiwari (Basketball), Akansha Thakur (Boxing), Devendra Upadhyay (Wrestling), Manish Rajak (Kabaddi), Ankit Sen (Mountaineer), Mohammed Nizamuddin (Hockey), Rahul Sareen (Body Building), Firoz Khan (Body Building), Vinit Chakrawarty (Karate), Shubham Kachhi (Kho-kho), Vishakha Handa (Athletics), Chaitanya Avadh (Chess), Shyam Rajak (Arms Wrestling), Anand Yadav (Pro Kabaddi), Mini Singh Thakur (Athletics), Anchit Singh Thakur (Cricket) and Mohammed Riyazuddin (Hockey). On the occasion, Saurabh Nati Sharma, Jagat Bahadur Singh Annu, Dr. Prashant Mishra, Dr. Rakesh Tiwari, Virendra Singh Thakur, Ashok Gupta, Rajesh Rajput, Shakeel Anwar and others were present. Dr Prashant Mishra convened the programme while Saurabh Sharma proposed vote of thanks.