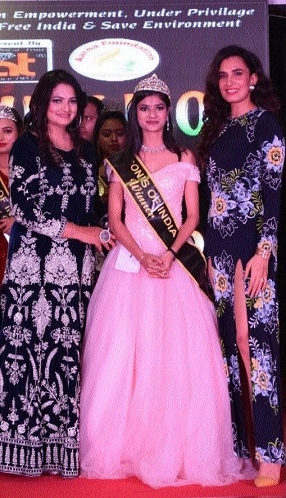 Anjali Sharma crowned as Miss Beauty Icon of India
Staff Reporter :
RAIPUR,
Anjali Sharma has been crowned as 'Miss Beauty Icon of India' title in a beauty pageant hosted by Aarna foundation. The award to Anjali was presented by Bollywood actor Anuradha Sharma and international model Monika Swami during a recently held programme attended by actor Sanjay Batra. Anjali was dressed as a bride in the traditional round of the competition while dressed as a house wife as well as office going woman in the creative round of the beauty pageant. In the formal round of the event, Anjali wore an attractive pink gown.
Attributing the credit of her success to mother and sister, Anjali said that she was very much supported as well as guided by her mother and sister in each step of the journey. The competition marked active participation of participants from Maharashtra, Odisha, Punjab, Jharkhand, Delhi, Madhya Pradesh, Chhattisgarh and other states. It may be recalled that Anjali Sharma had bagged Miss Chhattisgarh award last year and she is a well-trained Kathak dancer. She has also participated in the dance competition held in separate parts of the country and also won awards.