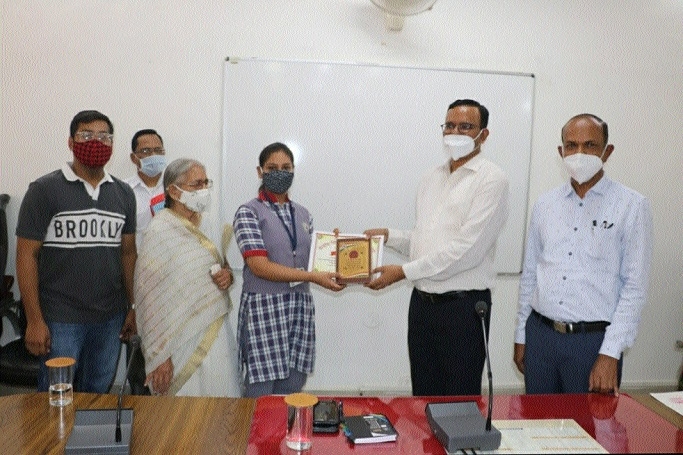 District Collector Dr Rahul Haridas Fating felicitating a meritorious student in a function at the conference hall of the Collectorate.
Our Correspondent :
SEONI,
Under the chairmanship District Collector Dr Rahul Haridas Fating, a felicitation ceremony of meritorious students was organised at the conference hall of the Collectorate. On this occasion, students of government and non-government schools, who made place in the merit list in Higher Secondary and High School examination results, along with their parents and teachers were present. Collector, Dr. Fating while encouraging the talented students in the program said that it is certainly a matter of pleasure to perform better in the examination results by being engaged in our study work even during the adverse circumstances of Covid transition in the academic year. The credit of this achievement of the students definitely goes to the hard work of the students as well as their parents and teachers. He said that the hard work done in student life is never wasted, today's hard work creates a golden future tomorrow. Collector Dr Fating also told the students to assimilate social ideals and keep them always in the first place.
The Collector honoured - Priyanshu Marskole, Prachi Ahuja, Soumya Jain, Vasu Bhatt, Radhika Agarwal, Class 12 students of Kendriya Vidyalaya Seoni, Harsh Chorghade, Kunal Gautam, Nitya Patel, Anshika Koshta, Sagar Rajak, Sparsh Gumasta, Atufa Beg, Padmesh Jain, Alia Khan, Avni Rajput were honoured by giving memento and citation for securing more than 90 per cent marks. Apoorva Tiwari, Paresh Gumasta, Arpit Singh, Kumari Pratiksha Rai, Kumari Gautami Rangare, Partha Choksey, Shreya Baghel, Vaibhav Morghade, Shantanu More, Himanshu Wadiva, Khushi Sihotia, who have secured more than 90% in class X of Kendriya Vidyalaya Seoni, Rushika Jaiswal, Mudit Baghel, Ekta Ranghadale, Monika Dhankar, Ankita Vishwakarma and Bhumi Barve were also honoured. Similarly Om Sahu, Khushi Sonkushere, Rupali Bisen from class Xth from the Jawahar Navodaya Vidyalaya Kanhiwada, Disha Bisen from class XII Science faculty, Gagan Bopche, Snehal Chauhan, Sanjana Neware, Divyanshu Amrute from Commerce faculty, Kishan Pathak, Rahul Dhanole, Srishti Thakur, Surabhi, Nandani, Alisha Khan, Vikram Merskole, a class Xth student of Government Higher Secondary School, Budhenkala, Tanishka Namdev of Bhavas Academy Ghansaur, Satendra Shivhare, Palak Srivastava, Garima Dharmik and Sanskar Srivastava and Merina Qureshi of Government High School Ganeshganj were also honoured. Similarly, Ashwani Dubey of Model School Lakhnadaun, Durgesh of School of Excellence Seoni, Abhishek Viheria, Anujkumar Baghel, Pankaj Baghel, Prerna Bende, Alia Anjum, Subhangi Dongre of Saraswati Higher Secondary School, Seoni, Maheshwari, who came in the proficiency list of class XIIth, Asifa Parveen of Government Urdu School, Alia, Mayuresh Kahate of Little Flower, Mani Shankar Sharma, Aditi Sharma of Mission English School, Seoni, Sakshi, Shikha of Government School Gopalganj and Sandeep Kumar of Bakhari, and Rajkumar of Excellence School Chhapara, Raghavendra Khaleshwar, Minvati of Government Girls' Higher Secondary School, Chhapara, Yogesh Soni of Wonder Word School, Lakhnadaun, Diya Jain of Government Girls' School, Ghansaur and their parents. Collector Dr Rahul Haridas Fating honoured the students by pesenting them with memento and citation.